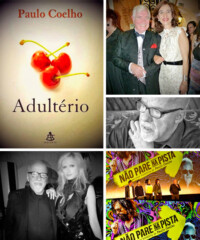 Few dates have as much meaning or leave such marvelous marks in my memory as March 19. Every year on this day the famous Brazilian author Paulo Coelho honors Saint Joseph with a celebration held in a different part of the world. This year he invited 120 of his closest friends to the Fortaleza do Guincho near Lisbon. Personalities from all over the world gathered to celebrate art, music, friendship and faith with Coelho as well as the launch of his latest novel, Adultery (out later this summer).
Influential authors, tastemakers and journalists were brought together by Coelho whose strength of presence and passion for life stays with his guests long after they've gone back to their daily lives. Spending the day with him is like a spa for the spirit, a chance to take a break from the pressures of the world and reflect on the real meaning of friendship and those who matter most in our lives.
The gathering also included a special screening of the film Não Pare na Pista, an autobiographical tale of the author. The title translates into "always on the move," which perfectly encompasses Coelho's life motto. His strength of character has served him well even through the toughest years of his life, a lesson that we can all learn from. Click on the gallery above to view photos from the event.
Audrey Tritto writes for audreyworldnews.com