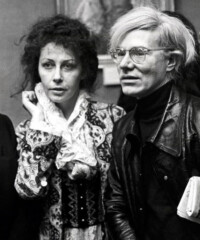 Ultra Violet's studio on 26th Street is organized, but very full. The wall through which you enter is crowded with framed photos of her posing with Salvador Dali, with Andy Warhol, without clothes. In the center stands a table piled with works and works-in-progress, a couch pouts in one corner, the metal skeleton of a bookcase juts from one wall, and another wall is painted a shimmering baby blue.
When gallery owner Valerie Dillon paid a visit some time ago, she looked around and said, "Let's just bring it here so people can see what I'm seeing, which is fascinating." So she did.
"Ultra Violet: The Studio Recreated"  runs April 24 through June 3 at the Dillon Gallery in Chelsea, where the contents and configuration of the artist's cozy studio remain the same, albeit a bit more spaciously spread. You walk in to the same assemblage of photos, the same baby blue wall and the same pouting couch.
But more than merely capturing a snapshot of Ultra's impressive catalogue—from paintings to neon sculptures of clouds and rainbows to films, books and audio recordings—the retrospective, which intentionally coincides with the 50th anniversary of The Factory, also examines the legacy of Pop Art by zooming in on one extraordinary branch of Warhol's artistic family tree.
Ultra Violet was born Isabelle Collin Dufresnin in Grenoble, France in 1935 to a religious family that she soon fled—practically straight into the arms of Dali. He became her mentor and she, his muse. In 1963, she fell into the orbit of Warhol, becoming one of his famed Superstars, a title she now wears with the pride of a survivor.
"I am one of the lucky sixties people who escaped death," she wrote in Famous for 15 Minutes, her 1988 memoir. "But I have been confronted with my day of reckoning, when my wicked ways had to be abandoned if I was to live at all, let alone in health and sanity."
At the moment, Ultra's health is temporarily aquiver; she was released just days ago from intensive care at New York Presbyterian, the same hospital where Warhol died in 1987 (the gallery staff held its breath during her stay there, trying not to think about the possible poetic parallel).
But on the phone, Ultra is in good spirits. "I was just astonished at what I've done," she says, in a softly gilded French accent, of the collection she has amassed. Then she adds with a laugh, "I guess that means I'm a dinosaur."
When evaluating her own work, she's dismissive of the early stuff. "It's okay," she says, "but not as accomplished as 'IX XI' and 'Selfie.' " Those two works, both made within the past 15 years, perhaps best exemplify Ultra's conceptual range, her keen insight into the spectrum of human consciousness and her continuation of the Pop Art tradition.
"Selfie," which preempted the now-pervasive Chainsmokers song, is part of a series of mirrors in Baroque-style acrylic frames in a rainbow of hues, stamped with its title in mirrored letters. Also in the series are "Self Portrait" and "Auto Portrait." In all, several dozen of these mirrors quilt one side of the gallery.
"It's your portrait, not mine," Ultra explains. "It's democratic." It's also a perfect reimaging of The Factory ethos in the vernacular of popular culture today. In the Factory, self-promotion was the game, fame the goal, and nothing was sacred. "If Warhol was alive, he probably would have thought of doing a selfie," says Ultra.
But across the room from the wall celebrating and chiding our brazen vanity is a simple, sturdy sculpture in a somber magenta that suggests a serious, un-ironic introspection not often associated with Warhol's slice of the raucous '60s.
The sculpture, called "IX XI"—the roman numerals of 9/11—features that palindrome stacked on top of itself like Robert Indiana's famous "LOVE" sculpture. The work is also displayed at the National September 11 Memorial and Museum downtown. For Ultra, "9/11 is the day Mickey Mouse died," explains Dillon, "the day the American dream died."
She points to a large canvas with a drawing of that iconic rodent, under which are the roman numerals of his birth (when Walt created him) and symbolic death, in 2001. Referring back to the "IX XI" sculpture, Dillon continues. "She wanted a memorial that didn't come with political or religious reference."
Discussing the work, Ultra chokes up. "USA is not the same, will never be the same," she says. "I just tried a simple work marking time. I'm proud of it."  Then, almost to herself, she says it again: "I'm proud of it."
The former Superstar—if she ever stopped being one—still shines with the glamour and mischievousness of the '60s, still dons purple wigs, wears multiple Ultra Violet pins and is forever seeking the best way to market, merchandise and memorialize herself. She is indeed a product of The Factory.
But "Ultra Violet: The Studio Recreated" is not a time capsule. It is itself a type of memoir of a mature, reflective and still imaginative artist looking forward.  "Art is my life," Ultra Violet says. And her life is art.
"Ultra Violet: The Studio Recreated"  is on view at the Dillon Gallery from April 24-June 3. Click on the gallery above to see more photos from inside the artist's studio.
MORE:
Chelsea Girls: The Style of Andy Warhol
Prideful Prints Through Warhol's Lens
Naeem Khan: "Studio 54 Wasn't Just Drugs, Sex, Rock and Roll"