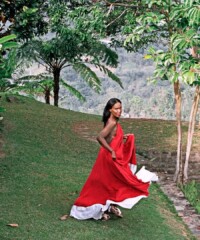 Nicola Vassell left Jamaica in 1996, but Jamaica never really left her. "You can't truly cut the cord that connects you to a place like Jamaica," says Vassell, a model-turned-gallerist. As a high schooler in Kingston, she'd been "discovered" by a model scout during a trip to the movies; by the time she graduated, staying home to pursue a career as a writer or an engineer, the original plan, was no longer an option. "I had another path," she says, which included a contract with CoverGirl, runway shows for Calvin Klein and others and appearances in dozens of major fashion magazines. Still, she explains, "Jamaicans are very nationalistic. The roots are very, very deep. I understood that only later in my life."
Vassell left modeling in 2005 for the art world, in another case of fortunate timing. While studying art history and business at NYU, she met downtown gallerist Jeffrey Deitch, who offered her an internship. At Deitch Projects, she quickly climbed the ranks, working closely with such artists as Kehinde Wiley and Francesco Clemente and becoming known around town for the salon-like gatherings she held in her SoHo loft. When Deitch Projects closed in 2010, she went to work as a director at the decidedly more uptown Pace Gallery, leaving last year to pursue her own projects, including privately dealing art. She's currently developing an "ideas lab" that will curate and produce exhibitions and special projects and encourage social responsibility within commercial art.
But while her work keeps her traveling around the world—she spent a considerable amount of time in Vienna last year—she goes home to Jamaica as often as she can. During the Christmas holiday, it was for three weeks. Sometimes it's just for a weekend. Often, she'll take friends. Every time, she says, she discovers something new. "It's like anything in life," she says. "You go around the world searching for the mountaintop and you realize that it was here all along."
The island—the Caribbean's fourth largest—has, of course, been a vacation favorite for decades, an erstwhile destination for a glamorous Hollywood crowd that included Ian Fleming, Elizabeth Taylor and Richard Burton, who valued its seclusion and shot a film on location there. Bob Marley also had a little something to do with Jamaica's recognition, and more recently Usain Bolt, the world's fastest man, helped remind travelers of the country's cultural riches. But much of the credit also goes to hoteliers like Jon Baker and Chris Blackwell, whose properties blend luxury getaways with Jamaican culture and topography, rather than provide gated, all-inclusive communities that focus on little more than beach and booze. At Blackwell's newly renovated Strawberry Hill resort, for example, set deep in the Blue Mountains (where all the photographs seen here were taken), daily hikes offer a glimpse into organic coffee farming and dozens of species of local birds. Expansive views of Kingston are available at 12 Georgian-style cottages, including the one that housed Marley as he nursed gunshot wounds in 1976. It's not stereotyping to say that Jamaicans love their reggae; indeed, it is about the only musical sound heard on the island.
Vassell's own beloved destinations range from the serene to the extreme. To "marvel at the intense lushness of my island," she explores the plants and rivers of Castleton Botanical Gardens, situated in the hills of St. Mary Parish. YS Falls in St. Elizabeth is another "great natural wonder," with frothy, multi-tiered falls and underground springs. As an art professional, she loves the museums and libraries of the Institute of Jamaica, the chief archive of the island's ethnographical, artistic, scientific and cultural history, whose permanent collection includes works by Jamaican artists like Mallica "Kapo" Reynolds and Edna Manley. And there are, of course, the beaches. Vassell's favorites are the simple, uninterrupted stretch of Negril's Seven Mile Beach, James Bond Beach in Oracabessa and Frenchman's Cove in Port Antonio, where, she says, "a freshwater river meets the sea." When she's seeking adventure, she finds it while cliff jumping at the Rockhouse Hotel in Negril. "I dare admit that Negril is my favorite place in Jamaica," she says. "And Rockhouse is where I leave my inhibitions on cliff's edge," something that's especially welcome after a long day of lazing about.
In fact, Vassell points to the Jamaican extremes as the most interesting aspect of her home country. "There are many things about Jamaica that endlessly intrigue me," she says. "but mostly it's the fact that you have one extreme and then another, then another, and another. People sort of move in between these extremes, with very little road running to the middle ground. But what unites us is our shared sense of appreciation for a simple existence. There's a very distinct sense, in a place like Jamaica, that you don't have to have everything to inherit the riches of the earth."