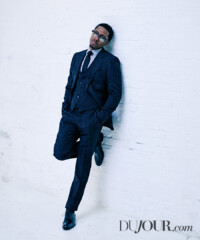 "Would you mind if we did the interview in the car instead?" asks a chiseled, shirtless Nick Cannon, tossing aside his suit jacket and slipping into a faded vintage tee. He's just finished a photo shoot at a studio in Brooklyn, and since we're both going back to Manhattan, "Wouldn't it just make more sense?" he suggests politely, though his preference is clear. When you're a guy with more jobs than Ryan Seacrest—which is to say, there are a seemingly infinite number—efficiency is the name of the game. So we crawl into the second row of his chauffeured black Cadillac Escalade and head toward the city.
Cannon is just 35, but today his energy would tell you otherwise. He looks exhausted. He only sleeps two hours a night, he says. And the other 22 hours? They're spent juggling his roles as a father (to four-year-old twins), host (America's Got Talent, for eight seasons), actor, stand-up comedian, entrepreneur (he founded NCredible Entertainment, a production and artist management agency) and businessman (he was named Chairman of Nickelodeon's TeenNick in 2009). To call him one of the hardest working guys in Hollywood would be an understatement.
Career-wise, the past year has been a fruitful one for Cannon. His performance as a Chicago gang leader in the satirical film Chi-Raq not only showcased his impressive dramatic chops, it also gave him the opportunity to work alongside Spike Lee (the movie's director) and Samuel L. Jackson (who co-starred)—and it's been met with strong critical acclaim. But much of his recent success has been overshadowed by his high-profile breakup: in December 2014, Cannon filed for divorce from Mariah Carey, to whom he was married for six years and has two children. Since then, he's quickly realized that the sensationalized "divorce drama" storyline is inevitable, no matter how many times the two insist there were no hard feelings surrounding their split. 
He's also come to another revelation: that maybe he was never meant to be a husband in the first place. "I feel like marriage isn't for everyone," says Cannon, adjusting the brim of his fedora. "A friend of mine put it the funniest way. He said, 'If you heard that there was a 50/50 chance of living or dying when you jump out of a plane, you probably wouldn't go skydiving."
He continues, "There's like a 50/50 chance of a marriage working. If it didn't work out for you the first time, and you still survived it, you probably shouldn't do it again." But does he think he ever will? Cannon hesitates, as if debating whether to answer the question. "I highly doubt it."
***
It's two weeks before Christmas, and Cannon's children have officially submitted their wish lists, which include a robust range of items like video games, Legos, "princess stuff" and Frozen sing-along kits. "Their mom makes Christmas very theatrical," says Cannon. "They have the Rockefeller tree in their living room. Reindeer, Santa, the whole nine." (He isn't kidding; Carey will later post an Instagram video of half a dozen reindeer dragging Santa's sleigh through the snow in Aspen, where the family spent the holiday.)
Cannon doesn't try to pretend this kind of childhood—one that involves private jets and paparazzi loitering outside of his kids' school—is at all normal. "I don't see a problem with them being different and having an eccentric upbringing. It's fascinating and fantastic. But it's about [teaching them] humility more than anything. Teaching them to be respectful—to make eye contact and say 'Yes, ma'am' and 'Yes, sir,'" he says. "You can still be a diva and be humble. Mariah is a perfect example of that." 
This isn't the first time Cannon speaks highly of his soon-to-be ex-wife. He says that years ago he'd tell people he would never get married—unless it was to someone like Mariah Carey. "And then it happened," says Cannon, who seems like he still can't believe things worked out that way. "When you can be blissful in [a marriage], it's beautiful. Embrace it for the time that you have it, because it's not easy. In human nature, we're supposed to be selfish… We're constantly moving, constantly changing and evolving. To expect someone to do that with you is kind of absurd."
If Cannon sounds hardened to the idea of finding love again, it's not because he doesn't believe in it—he describes himself as a hopeless romantic—it's that he has trouble letting his guard down. "I've rarely let people that close to me. A lot of it comes with me having trust issues. I've been that way since grade school. I don't trust many people," he says. "Who knows where I'll be when I'm 60. At 35, I'm not even looking to be in a relationship."
For now at least, Cannon is trying to get used to being on his own. He recently Instagrammed a photo of a quote that read: Until you get comfortable with being alone, you'll never know if you're choosing someone out of love or loneliness. 
"I never ever in my life want to have to… how do I say this the right way…" he trails off, thinking carefully about his choice of words. "Not to say that I was bogged down [in my marriage], because I wasn't by any means, but I like being able to make my own decisions and come and go as I please." 
The car pulls up to a tattoo shop where Cannon is headed to get inked. He's settled on the "Hand of Fatima," a symbol he says "represents doing away with evil." Cannon turns toward the window, and printed on the back of his leather motorcycle jacket in bold, white block letters is a single word: "FREEDOM."
Chi-Raq will be released on DVD and Blu-Ray on January 26 and will be streaming on Amazon Prime on February 4.
In main photo: Tuxedo, $5,175; Vest, $1,460; Shirt, $575; Bow Tie, price upon request, BRUNELLO CUCINELLI, brunellocucinelli.com. 
Groomer: Carl Sylvain. Stylist Assistant: Julia Ryll.