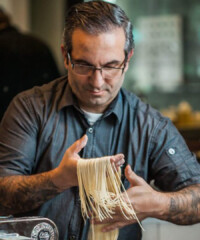 In its premiere year in 2012, the Long Beach International Film Festival had just 50 submissions and showcased 12 films. But in six short years, a hub of cinematic entertainment combined with culinary expertise has been introduced. The four days, from August 1 to August 4, consist of culinary tastings, film screenings, panels and a unique opportunity to watch films under the stars. Returning this year is the ultimate culinary collaboration, Chefs & Shorts, the must-see experience of the festival.
The Long Beach International Film Festival is partnering with Devour! for the second year in a row to present Chefs & Shorts at the chic beach-front Allegria Hotel. "It is great to be partnering with Devour again this year.  They have been a wonderful addition to our festival lineup. Whether you are a foodie or a film fanatic, Chefs & Shorts is a great way to enjoy both on the shores of Long Beach," says Craig Weintraub, co-founder of LBIFF.
The evening pairs gastronomy and wine with short films in the ballroom of the Allegria Hotel in Long Beach. Each of the five locally-sourced courses with wine pairings are inspired by a different short film and prepared by highly-esteemed international chefs. Each course is served while guests view the respective film and will once again prove to be an artistic reflection of the senses. Chefs & Shorts will take place on Thursday August 2 at 6:30 pm and tickets cost $149.
In addition to Chefs & Shorts, culture junkies can indulge in Taste on The Beach, Shorts on The Beach, Concert on The Beach and finally, Casino Night. Each experience boasts the collaboration of food and film that we love so much and will mark another exciting year for foodies, movie-heads and everyone in between looking for oceanfront entertainment. While there are endless facets of enjoyment that you can find at the Long Beach International Film Festival, Chefs & Shorts will be the experience that will take the cake. Click through the gallery to get an introduction to each chef and their meal paired with each director and their short film.