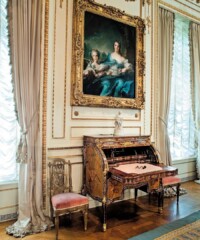 In 1914 at the age of 27, Marjorie Merriweather Post became the wealthiest woman in the world after inheriting $27 million from her family's cereal company. While such a windfall might have been unmanageable for many, Post exhibited the dynamism and impeccable social skills that would make her a philanthropic stalwart and one of the most famous hostesses of the 20th century.
Over the years, Post—who married and divorced four times—acquired several grand estates, which she ran meticulously. In the mid 1950s, she settled on a rotation among three residences: the luxurious Mar-A-Lago in Palm Beach, Florida; the rustic Camp Topridge located north of Saranac Lake in New York's Adirondack Mountains; and Hillwood, her primary home, in Washington, D.C. A new book, Living Artfully: At Home with Marjorie Merriweather Post, out July 16th, showcases these three exquisite places and looks at the stylish hostess herself through the eyes of guests and employees. Author Estella Chung put it this way: If Post's life were made into a TV series today, it could be "Downton Abbey in the Mad Men era."
Thanks to Living Artfully, we have an intimate peek inside Post's majestic estates and the rooms where movie stars, royalty and captains of industry went to relax. Click through the gallery for a glimpse.