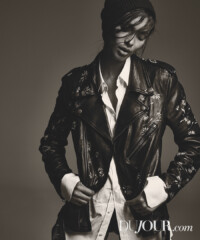 Seeing models in person is always jolting. They're poised; they're beautiful; they are very, very tall. There's an aura of effortlessness around them that acts as a magnetic force, making it difficult to look away (and hard to imagine them as anything but models). Lais Ribeiro is certainly no exception—just look at her—even if in professional modeling terms she's only just begun. Born in Teresina, in the north central Brazilian state of Piauí, the 25-year-old was a young mother attending nursing school when she launched her own career in modeling by distributing flyers outside her hometown mall, eventually landing small jobs for local magazines and brands.
"Those were my first 'jobs' as a model," she says. It might have been a modest start, but she was poised for more. It wasn't long before the Brazilian fashion community took notice and she was submerged, walking in upwards of 25 shows in both São Paulo and Rio Fashion Weeks in 2011. "I put so much makeup on my face in one day that I couldn't use makeup anymore," she recalls of that first year. "It was quite an experience."
Since then, Ribeiro has walked runways in New York, London, Paris and Milan, appeared in countless magazines and, last fall, she was named an official Victoria's Secret Angel. And lest anyone think her beauty is entirely effortless, she points out that she stays in shape through dancing, a passion that began with salsa-style steps back in Brazil (and today also includes pop-inspired workouts she'll soon be sharing with fans on Instagram). 
Sharing her moves with thousands of followers may seem like it would be daunting, but Ribeiro never had the chance to be shy about dancing in public. The world first saw her salsa in Paris at spring/summer 2014 Fashion Week, when Jean Paul Gaultier sprang a last-minute routine on her. "One day before the show he said, 'Oh, you have to do dance classes,'" she recalls. "It was kind of funny because I met this guy, the dancer, we trained for 40 minutes, he created choreography, and then 40 minutes before the show we were doing the rehearsal and I was so nervous," she says. "It was one of the most incredible experiences in fashion for me that I ever had." It was after that she decided dance could be something to share with her fans, and she began taking hip-hop classes for workouts. 
"I grew up dancing in Brazil, and always like to dance here," she says of her adopted home of New York City. "There's this Brazilian party every Sunday, that if I'm here, for sure, if you want to find me, I'm there." The Big Apple works for Ribeiro, and although she'll always think of Brazil as home, her son and mother have both recently joined her in NYC. In support of her native country, she serves as an ambassador to Bottletop, an accessories brand that supports the Bottletop Foundation in it's mission to fight issues like HIV, drug abuse and teen pregnancy in Brazil and around the world. "I was very happy to be involved because they try to bring health education and try to support young people and to try to make them understand that they can do it on their own," says Ribeiro. Come August 5th, she'll head home to attend the opening ceremony of the Olympics wearing a custom-made outfit from Bottletop. But what is Riberio truly looking forward to most? "I'm a big fan of volleyball," she says.