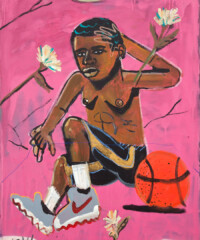 As Hollywood continues to reckon with widespread allegations of sexual assault and toxic masculinity, L.A.'s art scene has offered some solace in the form of the binary-smashing exhibit "Engender." The show, which opened at Kohn Gallery this weekend, attracted a tide of progressive arts patrons, including actress and survivor Rose McGowan, who is currently leading the charge against Harvey Weinstein and gendered power dynamics in the industry.
The exhibition, comprised of 17 artists' expansive and colorful depictions of gender, is the latest major showcase to challenge the binary, following New Museum's sprawling "Trigger: Gender as a Tool and a Weapon." Highlights include Tschabalala Self, a Forbes's 30 Under 30 alum who has been lauded for re-centering black sexuality, and queer figurative painter and MacArthur "genius" Nicole Eisenman, whose works mix humor and the grotesque.
As abuses of power continue to echo in the national conversation thanks to whistleblowers like McGowan (who declined to be photographed), the art world's appetite for radicalism has only grown, as exhibited by the success of the Kohn show: 70% of the work was sold out before installation was complete. "Engender," on view until January 13, also demonstrated the importance of continuing that conversation: according to the gallery, it turned down numerous private collectors in favor of museum acquisitions. Click through the gallery to see the best of the show.
Main image: Jansson Stegner, Julie. All images courtesy of Kohn Gallery.