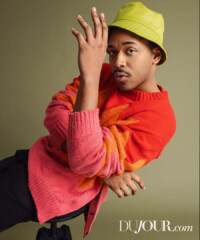 If any young actor has cornered the market on bringing historic Black icons to cinematic life, it's surely Kelvin Harrison Jr.
Barely a decade into his professional acting career, the 28-year-old has already vividly portrayed blues great B.B. King in Baz Luhrmann's Oscar-nominated fantasia Elvis and legendary activist Fred Hampton in Aaron Sorkin's acclaimed The Trial of the Chicago 7, and will soon march across television screens as Martin Luther King Jr. in the forthcoming Disney +/National Geographic anthology series Genius: MLK/X. Next year, he'll provide the voice for pre-villainous Taka (who later becomes the villain Scar) in Barry Jenkins' highly anticipated prequel Mufasa: The Lion King. Later this year, he'll offer his take on the short, tempestuous life of brilliant artist Jean-Michel Basquiat in a new film biopic titled Samo Lives.
"I don't think about them as icons at all," he says, seemingly taking these rare multidimensional characters he's been assigned in his stride. "Because at the end of the day, I still see them eat lunch and pick shit out of their teeth and they just seem like dudes."
He insists he doesn't feel the responsibility when portraying real men that he did with some of his earlier fictional roles in films, such as Luce and Waves, which first garnered him attention for his intense screen magnetism and versatility.
"I think the common denominator is the fact that they believed in themselves and they weren't afraid of opposition," he offers. "They learned that adversity ultimately makes them stronger and more interesting and, ultimately, the individual always wins over conformity."
As impressive as his résumé is (his debut was in the Oscar-winning 12 Years a Slave), consider his newest film, Chevalier (in theaters April 21), in which he plays another real-life trailblazer. It's a lush, sweeping historical epic in which Harrison delivers a captivating performance as Joseph Bologne, the 18th-century musical prodigy known as Chevalier de Saint-Georges but more commonly referred to as the Black Mozart. The character offers a coveted role that required the actor to not only showcase his prowess with the violin but demonstrate precision fencing skills.
Fortunately for Harrison, he had previous experience with both the art and the sport that allowed him to nail the character. In director Joe Wright's 2021 adaptation of Cyrano, he learned to wield a sword with expertise, although he shares that his grand fencing scene didn't make the final cut. The romantic film also showcased his richly expressive singing voice.
"The first instrument I ever played was the violin, and I was pretty good when I was a kid," Harrison recalls. "When Hurricane Katrina hit, the program that I was a part of was no longer there, so I stopped."
His relationship with music didn't end there, however; it's in his blood, or at least absorbed through the walls of his childhood home. Born and raised in New Orleans, Harrison grew up in a musical household. His father was a popular music teacher who was close pals with Harry Connick Jr. and Wynton Marsalis.
Still, he decided to read everything he could find on Bologne to make his performance as credible as possible. He even showed up on set with binders filled with facts about the musician.
"Those details all matter when you're trying to justify choices," he says. "I made these big poster boards in the timeline so I would know what was happening when, but then I had to throw it out the window and just start to create a person, because, ultimately, it is not really active to act history."
After considering several promising young actors for the film, director Stephen Williams was confident Harrison was the ideal choice.
"Once Kelvin had a sense of how he wanted to tackle the role, he dedicated himself tirelessly to peeling back the layers of the character in a uniquely compelling way," Williams recalls. "I truly believe that he is the only actor who could have pulled off all that we asked of him for this film."
It's as if his previous roles have led to this pivotal film, particularly his brief but dazzling turn as King in Elvis, Luhrmann's flamboyant take on the King of Rock 'n' Roll. It's a film that he was thrilled to be a part of. "Baz is a firecracker," Harrison shares. "When he speaks, pretty colors come out and you just get moved by anything that's happening on that set."
Many actors would be intimidated by playing Martin Luther King Jr., but Harrison says he wasn't interested in playing the late activist as the iconic figure he's become. He prefers to convey the man before the heroic character history has made him.
"I can't play the Time magazine covers or the Nobel Peace Prize," he says. "All I can do is breathe and go, 'Well, how do I take care of my kids? How do I make sure my wife feels safe? How do I make sure my people feel seen?' and make sure they have a sense of somebodiness."
Still, the gravitas required to play such a mythic man must weigh on an actor.
"The biggest thing that I've learned from all of these men is being reminded to never try to fit into a mold, but always do something because it's coming from the purest place of my heart," he says. "I'm genuinely interested in sharing that and not trying to preach to the public."
As for his own private life, it surely can't be all work and zero play for this busiest of young actors. In 2020, while promoting the guiltiest pleasure on his CV, The High Note, Harrison told an interviewer that he wanted "to explore sexuality and sensuality." Asked about his current relationship status, he laughs and offers a vague response. "Oh, you're getting to the juicy stuff," at which point his publicist asks him to skip this question. The guy is always moving on to the next subject, even in real life.
It's intriguing to wonder where Harrison will go from here, having already portrayed many of the most dynamic characters any actor could hope for. Harrison longs for a rest.
"I'm well beyond what I could have dreamt of, and so now I'm just trying to work on sleeping more so I can dream more stuff and have something new to bring to the table before I burn out," he says. "I'm already doing stuff that I just couldn't believe I'd get the chance to do, and I'm blown away by the experiences. I'm just going to ride that wave."