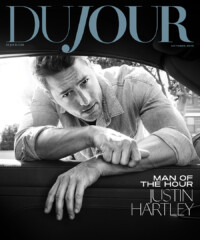 It's 90 degrees outside on our particularly balmy West Hollywood shoot day, but Justin Hartley is cool as a cucumber on set, even when modeling wool sweaters on the roof-deck of our studio as the sun sinks into the Hollywood Hills behind us. As I would come to find out by spending the day with him, that's just how he rolls.
The 42-year-old star, whose most notable role to date has been playing triplet Kevin Pearson in the hit TV drama series This Is Us, was once just your average struggling actor until his talent and determination eventually catapulted him into the limelight. (It also doesn't hurt that he is very tall, incredibly handsome, and looks like a Ken doll with his shirt off.) Back in the beginning of his career, he says, "I didn't have bills, I didn't have anything. I got into a truck and drove to L.A. Now, when I look back on it, I'm like, 'How the hell does someone do that?'"
Hartley spent years climbing his way up the proverbial career ladder, landing parts in series including Smallville, Revenge, and The Young and the Restless, when one day he got a call that would change his career permanently.
"I got ahold of that script, and it's the greatest thing I've ever read," he says. "I mean, I had to do it."
Clearly, his intuition was spot on. Now wrapping production on the show's fourth season (it returns to NBC September 24), Hartley waxes poetic about how grateful he is to have a role in the series. The best part of being on This Is Us, among the many, he says, is by far the people.
"If you look at the opportunity the show has given me, the eyeballs on the show, the wonderful story line, the writing; I think everything about the show is great. And as lucky as I am to be a part of that, the people behind it—and I am not kidding—I've never quite met a group of people that are dedicated and gifted, but are genuinely wonderful, smart, caring, thoughtful, inclusive human beings, every single one of them," he says. "If you're not that, then you're not going to make it in that environment on the show. Going into season four, there is this idea that we are all kind of protecting this baby, and the baby is the show."
The hardest part about being on such a beloved series? Keeping the spoilers at bay, which the actor says is a full-time job.
"If I really shared the spoilers, everyone would be like, 'I didn't wanna know that!' and then everyone would hate me," he laughs. "They don't really want to know! From the time we start filming in July to when it airs in September is a tough one, so I keep the scripts and circle back to make sure I know what the audience has seen last."
When I ask him what similarities he shares with his character, Kevin, he takes a giant pause as he thinks the answer through.
"I hope people say that I am as dedicated as he tries to be, and I hope that they would say I care about my family as much as I think he cares about his family," he says with true sincerity. "I think I am in the same ballpark, but I think Kevin is really good at taking care of other people, and I think sometimes that is the problem. I wish he would put himself in that category as well, because sometimes he forgets to take care of himself."
As he continues to ponder, he goes on: "I hope they would say they think I am thoughtful about them, that I think about them, that I try to take care of them, that I am good at, I hope—giving good advice."
But he notes there are also stark differences between them.
"I think he has a hard time being alone. I think his mind starts to wander, and he starts to do laps around what the actual reality is, and I think he has that sort of insecure, kind of always-trying-to-prove-himself thing hanging over his head. He's not as comfortable being in his own skin as I am, for better or worse," he laughs. "Plus, he's a cheater, and I am not. I don't know if he's a cheater anymore, but you know how they say, 'Once a cheater always a cheater'? I just have never been that guy, ever, so that is a big difference, and I think that says a lot about the character of someone."
Hartley, who has been married to wife Chrishell Stause since 2017 (his first wife was his Passions costar Lindsay Korman, to whom he was married from 2004 to 2012), is clearly a relationship guy, unlike his romantically troubled character. So one has to wonder what fans who see him on the street are most likely to shout at him.
"It depends on the time of night; it depends how many cocktails this group has had," he says with a laugh and an oversize smile. "The people are always very nice, and if you come around people who have had a few drinks, they're going to be a little more vocal about what they're screaming. They might scream, 'Manny!' They might scream, 'Kevin!' They might scream, 'Justin!' But all good stuff!"
Outside of happy hour, he says, it's incredible to hear stories from fans about how the show has affected their lives.
"During the day, people will come up and tell me how the show has changed their relationship with their son or with their dad, or helped them come to peace with a death," he says. "That's the incredible thing. You work, in my case, almost two decades to get something like this, and when you do, you realize the impact it has on other people is just something I guess I didn't think about."
Despite the serious characters he's played recently, expect to see him change things up in the years to come.
"I had a run as a superhero, and I am kind of dying to do that again, because that was a long time ago, and I wasn't really a man," he says. "I've had so many life experiences since then that I think I could bring a whole other level to that, and I love the idea of grounding a character that is based on a comic book or cause. The stories are incredible; the art is incredible. To be able play a quote-unquote 'superhero' but make it so damn relatable that people that walk among us watch it, being like, 'I am fill-in-the-blank,' right? That would be fun!"
That, and a good old-fashioned romantic comedy.
"Nothing wrong with a rom-com!" he says. But he circles back with more thoughts. Throughout our interview, thoughtfulness is front and center with every sentence he utters.
"Honestly, if I could just continue to just get lucky, or whatever This Is Us is for me, to continue to play these characters that are layered and wonderful—that would be the dream," he says. "Just keep getting jobs like this. That's the goal!"
Beyond his professional bucket list, one thing trumps everything else on the roster of what's important to him personally: his 15-year-old daughter, Isabella, who stopped by our photo shoot to take a few snaps with Dad.
"The most important thing to me [in the world] is that I would love to see my daughter fully grown with a family, happy as hell," he says. "Nothing else would matter."