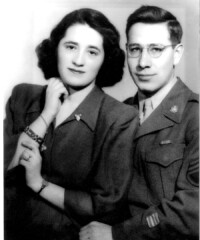 Since 1963, Judith Leiber has armed society women with a sense of joy and whimsy. But before her iconic handbags, known for their playful shapes and diamantine Swarovski shells, were in the clutches of everyone from Sharon Stone to Hillary Clinton, Leiber was a Holocaust survivor and master craftswoman who reached the pinnacle of her then male-dominated industry after immigrating to New York from Budapest, Hungary. Now, her ascent from apprentice to the grand dame of her craft is on full, fanciful display for "Judith Leiber: Crafting a New York Story" at the Museum of Arts and Design, the first large-scale exhibition dedicated to the 95-year-old designer in over 20 years. Ahead of the show's April 4th unveiling, we spoke to Leiber about her favorite celebrity clients, her first design, and why she started using rhinestones.  
How old were you when you started coming up with ideas for handbags?  
I first started coming up with ideas for bags in Budapest in my teens. My father used to bring my mother very beautiful handbags when he went to Western Europe on business before the war, and I always admired and loved them. It was seeing these bags that really sparked my interest in handbags.
What did you love about the bags?
The Western ideas that these handbags embodied were very intriguing to me. In the beginning, my ideas weren't very complicated. It was after the war that I really started making designs and made the handbags too. During the war, I was trying to survive. I imagined handbags in my mind to try to keep sane and survive the horrible reality of the war. After the war, I made handbags for the ladies at the American Legation. They loved my bags and kept me very busy. Even then I still made simple, traditional designs. My best designs really came after I went into business for myself and was free to create what I wanted to make. Then things really took off. 
What is the earliest design you remember imagining? 
The earliest design I remember imagining was a bag that was a frame bag that had two pockets. I thought it was an interesting idea. 
What handbag are you most proud of having designed?   
I am most proud of having designed the Chatelaine and the Art Deco bags. I love the Chatelaine because it was my very first metal bag and my first rhinestone encrusted bag.   
How did you get the idea to put rhinestones on your bags?
The Chatelaine was originally intended to be only a metal bag. My idea was to make a gold or a silver metal bag that ladies didn't have to go to the bank to put in a safety deposit box when they were done with it for the night. So I designed the Chatelaine to be brass that was gold or silver-plated. Plating is an electrical current process and the electrical current in Italy at the time left something to be desired and when I got the samples back, they looked terrible. The bottom half was discolored an awful shade of green. I had to figure out how to salvage them or I would lose a lot of money. So I got the idea to cover the problem with crystal rhinestones, and they turned out incredibly beautiful. This was the start of my entire rhinestone handbag business. 
What was one of your first big breaks?   
We were friends with the French architect Pierre Chareau and his wife Dollie. Pierre was a very modern architect and interior designer and Dollie had many beautiful Art Deco pieces in her apartment. They inspired me to work Art Deco elements into a handbag. By now, I was free to make much more complicated designs, and these bags were very complex. I figured out how to make an envelope that had a very interesting set of different colors and different skins in one bag. Some were all the same color but with different skins: calf, snake, lizard, alligator, and suede. This was the first time I combined different skins into one design, and that was a turning point for me. The envelope became like a blank canvas that I could fill with ideas. I ended up winning a Coty Award for my Art Deco bags. This 10 years after we started our business.
On red carpets past or present, who have you most enjoyed seeing carry one your designs?  
Of course, I have always and still do enjoy seeing ladies carry one of my designs on the red carpet, or to the opera, or even to the farmers market! We loved going to the opera and would count how many ladies were carrying our bags. We always went to the Metropolitan Museum Gala and there were many of my bags on that red carpet. The opera singer Beverly Sills was a good friend of ours and she had a tremendous amount of my bags. 
So many wonderful actresses have carried my bags on the red carpet over the years. Elizabeth Taylor had a lot of my bags, and Joan Rivers had quite a few also. Mary Tyler Moore was fantastic and she carried my bags. The list goes on and on.