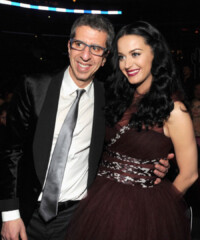 Jason Flom's known he has a golden ear long before it made him famous.
"I got started because I wanted to be a rock star and not go to school," Flom, now 53, explains. "The deal I struck with my dad was that I had one year to become a rock star before I went to college, and I was like, 'Fuck, I don't even need a whole year, this is great!'" 
While Flom's rock star dreams didn't quite pan out, what his time spent in Los Angeles—where he toiled as a junior-level label trainee—did teach him was how much he enjoyed the behind-the-scenes aspects of the music industry.
"I fell in love with the business," he says, "but it was amazing they didn't fire me—it was a one-year training program and I made a lot of mistakes."
At the end of it, Flom did go to school, but he never managed to shake his interest in music. In the subsequent years, he'd go on to work as an A&R man for Capitol Records, Virgin Records and Atlantic Records and to sign bands including Twisted Sister, Stone Temple Pilots and Jewel. Currently, he runs his own Lava Records, which is home to Lorde, Black Veil Brides and Jetta, among others.
Flom developed a keen ear for talent. Or, as he puts it, "I learned to look for stars." 
He explains that the acts he's worked with all have one thing in common: "They are not regular people, they're stars, and they were before they were stars on the stage," he says. "They walk with something, they talk with something. They have this innate style and presence, and I'm draw to that. I recognize it when I see it.  Throughout my career, I've found people that were born to be rock stars, and I help them become that."
He's not kidding. Here, Flom shares photos of him alongside some of the biggest talent he's worked with and reveals just what makes them so special.