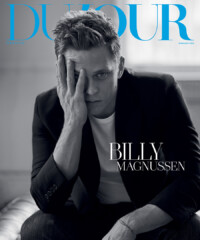 If the modern class of Hollywood stars tends to be cautious and cynical, then Billy Magnussen is working against the tide. The ebullient and energetic star of the film Game Night, opening tomorrow, has built a career that, though relatively young, uniquely spans both genre and medium. He's been on Broadway in a Tony-nominated role in Vanya and Sonia and Masha and Spike, in films like Bridge of Spies and Into the Woods and on memorable television arcs both comedic (Unbreakable Kimmy Schmidt) and dramatic (Black Mirror). But if his career is serious, Magnussen himself has made an effort to remain light-hearted.
In a free-wielding conversation, he uses the word "magical" generously and is full of praise for the things he loves: the opera ("It's an art form that I don't think we appreciate," he says), his co-stars (Sharon Horgan, Tiffany Haddish and Jane Krakowski are all given rapturous praise) and singing (something he encourages everyone to do more of). He also extols his girlfriend Meghann Fahy, star of the Freeform series The Bold Type, whom he met on the set of the 2011 Hallmark movie The Lost Valentine.
At 32, he has entered a new stage and a new way of approaching work. "It's funny: 20-year-old Billy was totally different than now 30-year-old Billy," he says. "The hype of show business, just being totally naïve and thinking, 'Oh, this is what I really want.' Then at 30 you want to build a life and a family and whatnot. That's the more important thing." This shift has included a move to the Dumbo neighborhood of Brooklyn and a quieter pace of life. "I'm adulting really hard," he says.
Adulting, as he puts it, has also included embracing his personal passions and some less-than-orthodox hobbies. Last year he traveled to Kyrgyzstan for the World Nomad Games, where he represented the U.S. in the sport of Kok-Boru. The Central Asian game, in which players on horseback endeavor to lob a 70-pound animal carcass through a goal, can be brutal, making it an unusual choice for someone whose livelihood depends on his face staying intact. "The horses are ramming each other. Everyone fell off. I fell off. It's intense. It's barbaric awesomeness. We all didn't know what we were getting into," he recalls.
Growing up as a jock in Georgia, Magnussen's path to acting began accidentally. After pulling a hamstring while wrestling, he found himself taking high school theater to fulfill his gym requirement. He was surprised by how much he enjoyed the craft and eventually decided to pursue it post–high school. "I grew up in a cabinetmaker's house. My father was a carpenter. I always knew that kind of stuff, working with my hands. I didn't want to get into it as much as my father was. I just didn't," he says. "I found out I could go to college for acting and was like, 'I'll try that.' Luckily, North Carolina School of the Arts accepted me and then it just kind of progressed from there. I surprise myself every day, with every opportunity I've gotten. It's really wild. My mom is always like, 'I can't believe what you've done.'"
Currently Magnussen is enjoying a rare quiet moment, awaiting the rollout of several recently completed projects. February will see the release of Game Night, a comedy in which a group of friends' regular game night turns into a dangerous thrill ride. The starry cast includes Rachel McAdams, Jason Bateman, Kyle Chandler, Sharon Horgan and Michael C. Hall. Magnussen lights up when discussing Horgan, his girlfriend in the film. "I fucking love that woman! I love her. She is so talented, so smart, just a sweetheart," he says. That affection is critical for Magnussen, who values the relationships he's made on set as much as he does the credits on his IMDb page. "It's crazy I've worked with these people. It really is. Even just saying this in this interview, I'm floored," he reflects. "To actually have that phone call, 'Spielberg's on the line.' 'No, Spielberg is really on the phone.' I was like, 'Oh, shit.' It's crazy. I'm so lucky. I'm thankful."
Magnussen recently completed filming his role in Guy Ritchie's live action adaptation of Disney's Aladdin, one of the largest productions he's been a part of. He plays a new character created for the film, a prince who competes for Jasmine's attention. "The scale of that film is massive and you'd be on set and there's 500 extras. I'm so glad I got to play on that and come up with this character," he says. He'll also appear alongside Emma Stone and Jonah Hill in Cary Fukunaga's upcoming Netflix series Maniac and in the indie film The Oath, with Tiffany Haddish and John Cho.
Trying new things and not sticking to the same script, whether on stage or film, is a priority for Magnussen. After bouncing between studio films and celebrated indies, like this summer's Sundance fave Ingrid Goes West, he's seeing his career flourish. "I think it's a mixed bag of things, like seeing what you're capable of doing and mixing it up," he says. "You don't want to play the same note over and over. Jazz isn't played that way. It's all about the mix. I don't know what it's going to be next but when it comes, be ready for it."