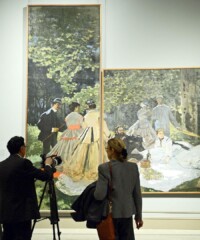 For some, the ability to view many of the world's most famed Impressionists under one roof would be enough. But the pièce de résistance of the Metropolitan Museum of Art's new exhibit, Impressionism, Fashion and Modernity, is the 14 dresses accompanying the paintings.
A portrait of Madame Louis Joachim Gaudibert by Claude Monet from 1868, for example, is enlivened when displayed next to the day dress worn in the painting. A summer day dress worn Madame Bartholomé in the 1880 painting "In the Conservatory," painted by her husband, is similarly eye-catching. The effect of juxtaposing paintings and clothes falls somewhere between window-shopping and the traditional museum experience.
So, if you've ever wished that visiting a museum could be more like teleporting to a 19th-century department store in Paris, this exhibit is for you.
Impressionism, Fashion and Modernity will be on display at the Metropolitan Museum of Art from February 26th to May 27th, 2013.