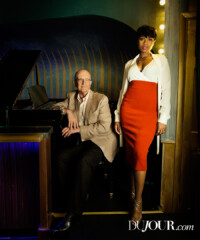 "Ibsen, Strindberg and Chekhov all owe a debt to this story," Evan Cabnet says of Thérèse Raquin, the Émile Zola–penned drama he's directing this fall. It's true that the story of love, murder and revenge is influential, and not only with playwrights. "I love the play," says Judith Light, who stars in the production. "For the audience to have a window into this kind of animal nature is very potent." Of course, Light's not lacking in potency herself. "Judith is one of those actors you want to watch," Cabnet says. "It's the rarest and most valuable attribute there is."
Light, right, wears blazer by Theory from Bloomingdale's, dress by Narciso Rodriguez, watch by Cartier and pumps
by Giuseppe Zanotti.