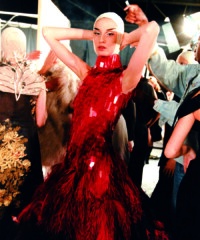 Alexander McQueen's death in 2010 inspired an outpouring of tributes to the radical designer whose runway shows, which seemed to stop time with their boundary-pushing themes and deep historical references, have been monumentalized in blockbuster exhibits. ("Savage Beauty" drew a combined 1 million visitors.) Now, his rags-to-riches ascent to fashion royalty will be canonized in three upcoming films, including McQueen, a documentary arriving in theaters July 13.
Through interviews with friends and family, as well as 150 archival sources, the film's codirectors, Peter Ettedgui and Ian Bonhôte, unspool McQueen's almost-20-year career—a superhuman yet sensitive task. "A lot of people decided not to take part because it was too raw for them to talk about on camera," says Bonhôte. "We had a responsibility to respect that while still trying to tell our story."
The best resource into McQueen, says Ettedgui, was the clothes. "He used to say, 'My work is my biography. Look at my work and you'll know who I am.' We took that as an instruction."
Opening on an image of a human skull—a fundamental McQueen trademark—the film sets out to peel back the layers of the designer's prodigious genius, which was propelled by both preternatural talent and a troubled upbringing. Born Lee Alexander McQueen to a cab driver and a teacher, McQueen grew up in London's rough East End, suffering abuse at age nine by his sister's husband. After leaving high school, he found refuge in making clothes. "We wanted to choose the aspects of his childhood that were relevant to his work [such as] the fact that he was an outsider and gay in a very patriarchal society," says Ettedgui.
The film is organized into six chronological chapters, or "tapes," each named for a seminal McQueen runway show. Act one, "Jack the Ripper Stalks His Victims," highlights McQueen's graduate thesis at Central St. Martin's, which foreshadowed his lifelong fixation with the macabre and self-sacrifice—on one of the sanguinary looks, McQueen fastened a lock of his own hair. The show caught the eye of the late editrix Isabella Blow, who bought the entire collection, becoming McQueen's kingmaker and friend.
What followed is fashion history. McQueen, both at his own house and eventually as creative director at Givenchy, repeatedly set the industry ablaze—sometimes literally. From his controversial 1995 show "Highland Rape," in which models hobbled down the runway in tattered silks and ultra low-rise pencil skirts, to 1997's "It's a Jungle Out There," which included a spontaneous petrol fire, McQueen's runways were one show-stopping feat of originality after another.
Up until his final show—2010's "Plato's Atlantis," featuring the cyborgian boots later worn by Lady Gaga—McQueen was fashion's foremost disruptor. "He brought things on the catwalk that didn't have any place on the catwalk," says Bonhôte. "He didn't just see conventional beauty; he's an icon to everyone who has been a misfit."
Click through the gallery above for an inside look at Alexander McQueen's journey.