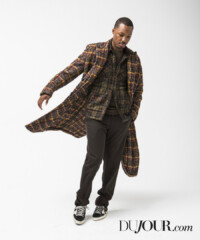 If you had asked Corey Hawkins as a young boy singing in his church in Washington, D.C., what he would be when he grows up, he would have said a performer. And he'd be right: The 27-year-old actor's star has unequivocally risen. 
Hawkins––whose career began with a few walk-on roles in popular TV shows after graduating from Juilliard, the acclaimed conservatory for performing arts––garnered serious attention after landing the part of Tybalt opposite Orlando Bloom in the 2013 Broadway revival of Romeo and Juliet. But it was when he was cast only a few months later in the leading role of Dr. Dre in F. Gary Gray's Straight Outta Compton that he became something closer to a household name.
Hawkins' transition onto the big screen, though swift, was not quite seamless. He was admittedly apprehensive about starring as the famed music producer in the critically acclaimed biopic, and who could blame him?
"I didn't want to be the one to mess it up," says Hawkins. "I was like, 'I can never show my face in California or L.A. again.' I knew that Gary Gray expected greatness, Dre expected greatness!"
But Dre didn't take the casting decisions lightly. "He said, 'You're the man for the job,' and he had my audition on his iPhone," says Hawkins, looking back. "It was one of those things where it's like: I have a responsibility now, and I love to be the underdog."
Hawkins wasn't the underdog for long. His performance as the young producer was met with resounding praise, and it also allowed him to lead a cast of minority actors during a year when the trending criticism of the Academy Awards was #OscarsSoWhite.
"He could turn on a dime and that's great when you're dealing with young actors who may not be used to being vulnerable," says Gray of working with Hawkins. "To be able to give you street and also tap into being unguarded is something that goes a long way as a lead." 
"I value Gray because he gave us the opportunity to know what it's like to be a leading man in this industry," says Hawkins. "We each got to be leading men in that movie, and a lot of the times, we don't have that confidence, especially us young black guys, because often we don't see each other on the screen, or we don't see each other in that position. So it was great to be able to step into that role and be reminded every day that this is your film, this is your legacy."
The script, which is set in Compton in the 1980s and early '90s, reads eerily like a front page today. Hawkins filmed scenes of the Detroit and L.A. riots that took place after the Rodney King beatings while the people of Ferguson, Missouri, protested police brutality on the news.
"I wanted to make sure that we told that story of what it was like for them growing up [in Compton], and equally what it's like for us as actors—not even as actors, as young men growing up in this country, walking in this skin," he says.
Hawkins calls the experience a journey, clearly not a problem to be solved today—or by him alone. In fact, the actor is relishing his new starring role as Eric Carter in 24: Legacy, a reboot of the popular television show originally led by Kiefer Sutherland, primarily because the plot is not driven by race. Quite the opposite, actually. 
"It isn't to be taken lightly that I am a young black man [playing Carter], because when I was growing up, I didn't see—you still don't see enough, these days—the young war hero who comes back home, who has a beautiful wife, a great house and is doing okay," he explains. "I never got a chance to see that growing up. So I thought, 'Wouldn't it be amazing for someone who looks like me to see that story?' Because that story is valid too. And why not?"
Some outlets apparently didn't get the memo that the new series is about the character of Carter, and not the color of Hawkins' skin. A headline on the industry trade site Deadline read "Fox Orders Pilot for New '24' Series With Young Black Hero to Succeed Jack Bauer." If that was a challenge, Hawkins is up for it.
"[No one mentioned,] 'He's actually a trained actor.' Or that he's an actor anyway," he says, reflecting on some of the media's initial reaction. "It's funny, because people love to put us in boxes, like, 'He only did Straight Outta Compton, I don't know if he's really an actor.' I was playing Tybalt on Broadway just a few months before. If you don't like it, get out the way."
To Hawkins' point, the conversation isn't about race—it's about talent. And the actor seems to have an unlimited reserve. Next year, he adds the big-budget Hollywood thriller Kong: Skull Island to his resume. In the film, Hawkins is joined by his Compton castmate Jason Mitchell, whom he describes as a brother figure, as well as industry heavyweights like Samuel L. Jackson, John Goodman, John C. Reilly and Brie Larson.
"And then to get to work with Jordan Vogt-Roberts, the director—he's new and he has such a fresh take on it," Hawkins says of the new project. "It was, no pun intended, 'gorilla' filmmaking. It was a huge-budget film; it felt like we were really making the movie that we all wanted to make."
With leading roles comes fandom, of course, and Hawkins takes it in stride. At home in New York, he gets a few nods here and there by the city dwellers who are notoriously averse to fawning over celebrities, but when he leaves the bright lights behind, his growing fame is more difficult to ignore.
"I went down to North Carolina to visit my grandparents," he recalls, "and we all went to some big shopping store and all of a sudden this lady ran up on us and she was like, 'Listen, I'm not gonna blow your spot up but I know who you are!' We literally took two steps after leaving her, and she gets on the loudspeaker and goes, 'Dr. Dre is here!'"
Asked how the ordeal made him feel, Hawkins pauses. "It's a little strange, a little scary—I'm not used to it," he says. "But it's all a part of the journey."