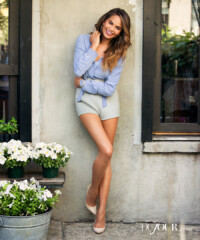 She has chiseled cheekbones, gazelle-like legs and a derrière that landed on the cover of this year's Sports Illustrated Swimsuit Edition, but here's the deal with Chrissy Teigen: her supermodel good looks are, quite frankly, the least interesting thing about her. What's far more fascinating is the 28-year-old's irreverent personality and her penchant for speaking her mind regardless of the consequences. Teigen would rather keep it real than concern herself with being politically correct. Need proof? Spend 30 seconds scrolling through her wildly popular Twitter and Instagram feeds, which are ripe with 140-character one-liners, self-deprecating quips and ballsy retorts to her critics. We spent the day with Teigen doing one of her favorite activities—cooking—and discovered that she's even more entertaining in person.
Click through the photo gallery for her cheeky commentary during the shoot, and check out our video interview where she dishes about her husband (singer John Legend) and the shocking reason one company fired her from a job.
It seems like you're tweeting all day long. How attached are you to your phone?
If I'm at home, [I check it] maybe every 90 seconds. For a while I was on this roll and I was losing my passport, phone and wallet nonstop. I got a call from the government saying if I lost my passport one more time I was only going to be allowed a one-year passport for the next ten years, which meant I'd have to get it renewed every year. So then I was like, I need to get my shit together.
Once I found a gift bag in a taxi with a bunch of random things in it: candy, a Men's Fitness and a worn men's t-shirt—that I smelled—and then three pieces of mail. So I sent it back to the guy and had to put a phone number on the FedEx slip. He ended up calling me and was like, 'Can we get coffee?' If I were single, that would be the ultimate "how we met" story.
If you could live in one outfit for the rest of your life, what would it be?
Jean shorts, a slouchy shirt and chunky boots. Or a towel. All my friends call me Terry because I'm always in a terrycloth towel. If I'm not out, I'm in a towel. I can't do robes.
What's the least glamorous thing that happens during a Sports Illustrated Swimsuit Edition shoot?
Probably when someone catches a stray bikini line hair and tweezes it while you're in the middle of a shot.
Do you think social media is ruining relationships?
Definitely. It's ruining relationships that are already in the shitter. I've never been in a new relationship during the Instagram era, but I could see myself getting jealous. I can't imagine having to deal with that stuff.
You're always traveling. What do you pack in your carry-on?
Aquaphor and tons of moisturizer. My face never looks better than when I get off a plane. Because I never wash my face before bed, ever, in real life, but on airplanes the second I get in my seat I use my face towels, I'll use a nose strip, I'll do everything. And I always have headphones with every different type of jack. Sometimes John and I watch the same movie so we have a splitter cable. That's so cheesy.
You really don't wash your face before bed?
Never.
What's the most out of character decision you've ever made?
Deciding to date a head-to-toe tattooed surfer club owner—right before John. That was in my early 20's. It wasn't a bad decision; it was just out of character for me for sure.
What's your favorite John Legend song?
It's easier to say what my least favorite John Legend song is, honestly. I remember when he was shooting the video for "Green Light" and I was like, 'This is horrible. This isn't gonna go anywhere. I hate this song so much.' There was nothing about it I liked. And then all of a sudden it's all over the radio. It was his first big radio hit. And I was like, 'Listen kid, this song's going nowhere.' Clearly I don't know shit. So now I don't really speak up as much.
What's something you've tried but would never try again?
Eating a raw cashew nut out of the stem. I did it in Brazil and it was one of the biggest mistakes of my life. Online there are so many stories of people doing the same thing. You start to hallucinate. I scooped it out with a butter knife, and I ate it and within 10 minutes I was hallucinating. I was seeing purple blobs. Apparently in its raw form, it's like eating a rare cactus. We were at dinner with people and my eyes started twitching and then my tongue got really slippery—that was the weirdest part—I lost control of my tongue and everyone is like, 'So where are we going next?' And I was like, 'I gotta go.' So we go home, and I lay on the ground and took all my clothes off and curled in a ball naked. And John was like, 'What the fuck is going on?' And I'm cackling laughing and throwing up all over the floor and between my legs while sitting on the toilet. So yeah, I would never do that again. Just Google: I ate a raw cashew nut. You'll see.
If you could be anybody for a day, who would it be?
I would love to be a first daughter. I have a weird, crazy obsession with first daughters. I would love to know everything that happens behind the scenes. It's such a cool world to me. I would be Malia or Sasha or Chelsea.
When you're an old woman, would you rather be a Joan Rivers or a Barbara Walters?
Joan! Anyone that's ever met Joan would probably say she's one of the most wonderful people on the planet.
Do you ever get mistaken for a different celebrity?
Six or seven years ago there was a lot of Tila Tequila. When I was on MySpace, I actually won one of her modeling contests.
What beauty products do you swear by?
I love SK-II facemasks and under eye masks. They're soaking wet when you put them on, and then when you take them off they're dry because you're skin just absorbs everything. I love Aquaphor. And Benefit for their brow kits. I could go on forever. Oribe shampoo and conditioner is my favorite. If you're a hairstylist and you don't have that Oribe Dry Texturizing Spray in your kit, I don't think anything of you.
What's the last lie you told?
Probably that "All of Me" still sounds the same to me as it did a year ago. I just said that to someone that asked, 'Is it still just the sweetest song on the planet?'
Which dish of yours is John's favorite?
He loves it when I do a roasted whole branzino or my Osso Buco.
What would your death row meal be?
My mom's scalloped potatoes, layered with bacon and chunks of ham. And John's fried chicken is the best. It's crazy flavorful. He soaks it raw in Lawry's Seasoned Salt, onion powder and garlic salt in water.
What was the last spontaneous thing you did?
I've definitely booked a lot of flights at the very last minute just because I wanted a kiss from John.
Click through the DuJour gallery for more shots of Chrissy, and check out the video below for a behind-the-scenes look at the shoot. 
Behind the Scenes with Chrissy Teigen from Dujour Media on Vimeo.
MORE:
 The Bold Testament of Jennifer Connelly
Amber Valetta: Mogul in the Making
Why Anne V is the Supermodel Next Door