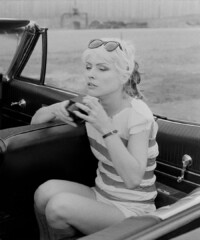 Legendary rock band Blondie has been inducted in the Rock and Roll Hall of Fame, sold more than 40 million albums worldwide and shaped the punk movement with its distinct sound. Now four decades after the band first formed, lead guitarist Chris Stein is unveiling a compilation of rare, mostly unpublished photos and anecdotes as a glimpse into the band's eclectic past.
Titled Negative: Me, Blondie, and the Advent of Punk, the book marks the band's 40th anniversary—a time that's coincidental, but serendipitous, according to Stein. "It's more about what was going on around us in the 1970s and '80s," he says. In the tome, Stein takes the viewer through life on the road, snapshots on stage and behind closed doors at home with cameo appearances from David Bowie, The Ramones, Joan Jett, Iggy Pop, Jean-Michel Basquiat and other characters that came in and out of their world. In just about 105 pages, you'll travel through time and space, from the gritty East Village and Andy Warhol's famous Factory to overseas stops on an international tour.
A bulk of the pictorial autobiography also captures the intimate relationship between Stein and the band's leader singer, international fashion and music icon Debbie Harry. "Debbie and I are good friends. It's always so easy," says Stein, who was romantically involved with Harry. "People ask us how we maintain our relationship and it's because we both have a similar mindset. We both know when to back down. We don't push each other too far and things never get too confrontational. We both know when to say, OK, do it your way—even if what she wants is at odds with me."
As for what the next 40 years hold, "We have to keep making music," Stein says. "It's never very defined—there's always a little bit of mystery about what's ahead of us. Maybe that's better."
Click through the gallery to see some of Stein's favorite shots from his new book.