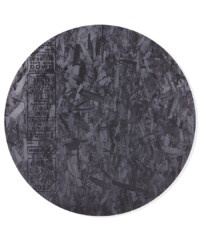 If you'll be in Switzerland this month, stop by St. Moritz's Vito Schnabel Gallery to see The Age of Ambiguity: Abstract Figuration / Figurative Abstraction. The group show will mark Bob Colacello's curatorial debut. Known for his work as the editor of Interview Magazine, Colacello has also written for Vanity Fair and profiled countless high profile faces such as Prince Charles, Naomi Campbell and Estée Lauder. A review of Andy Warhol's film Trash was the piece that first thrust Colacello into the spotlight. Colacello eventually became very involved in the business of Warhol's Factory.
In The Age of Ambiguity, the cultural icon explores abstraction and figuration within contemporary discourse. Colacello utilizes works from Jean-Michel Basquiat, Andy Warhol, The Bruce High Quality Foundation, Jeff Elrod, Jacqueline Humphries, Rashid Johnson, Jeff Koons, Adam McEwen, Sterling Ruby, Borna Sammak, Julian Schnabel, and Jonas Wood. Of his show, Colacello says, "As the 21st century grapples its way through its second decade, America seems to have entered what may be called The Age of Ambiguity, a time when everything is fluid and nothing concrete, and confusion overwhelms certainty…It is said that the best artists are the antennae of their society, the prophets of their era. Is it any wonder, then, that many younger American painters and sculptors have long abandoned the bygone absolutisms of Minimalism on one hand and Hyper-Realism on the other and are making works today that hover in a hard to define space that might be called Abstract Figuration or Figurative Abstraction?" 
Andy Warhol's 1987 piece, Camouflage depicts this in that it is both an abstract image and an illustration of classic military fatigues. Colacello believed that Warhol aimed to make "abstract art that's not really abstract." 
The show will be on view until March 5, 2017.                                           
Vito Schnabel Gallery
Via Maistra 37
7500 St. Moritz, Switzerland