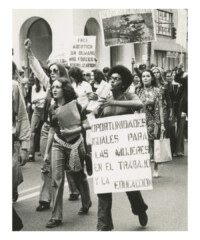 Pioneers like Elizabeth Cady Stanton and Susan B. Anthony energized the female spirit and motivated the modern suffrage movement in New York State. Women battled for labor reform, birth control and racial justice before succeeding and gaining the right to vote in New York State.
In celebration of the centennial of women's suffrage, the New York Historical Society Museum & Library presents the Hotbed exhibition. From November 3, 2017 – March 25, 2018 in the Joyce B. Cowin Women's History Gallery, Hotbed will offer an inside look at New York City's Greenwich Village during the 20th century. With immersive installations and more than 100 artifacts and images on display, visitors will be able to see first-hand the vibrant artistic and political culture of the Village during this time.
The female bohemian artists and writers pursuing freedoms well beyond the vote transformed the image of suffragettes into something new and glamorous. Women had joined forces across all different backgrounds, ethnicities and class to crusade for women's rights. From controlling their own bodies to the right to vote, women were marching through the Village as a united front.
Hotbed offers posters, magazines and broadsides documenting the peaceful marches and creative stunts and performances used to draw attention to women's issues. The exhibition is curated by Joanna Scutts, Andrew W. Mellon Postdoctoral Fellow in Women's History, and Sarah Gordon, Senior Postdoctoral Marie Zimmermann Legacy Fellow in Women's History, under the direction of Valerie Paley, vice president, chief historian, and director of the Center for Women's History at the New-York Historical Society, and is on view in the Joyce B. Cowin Women's History Gallery.