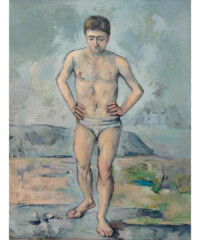 No brand blurs the line between art and fashion like Louis Vuitton, whose handbags have served as late-capitalist canvases for the likes of Takashi Murakami and Jeff Koons (the latter's Art History-themed totes may have erased the division between art and commerce entirely). But if its de rigueur collaborations are the tip of the luxury conglomerate's arts patronage, the behemoth iceberg is their massive Frank Gehry-designed Fondation Louis Vuitton that LVMH chief Bernard Arnault unveiled in 2014 – a $135 million, 126,000-square-foot salon for showcasing LVMH's permanent archive as well as a gob-smacking rotation of masterpieces by Picasso, Monet, Matisse and more.
Now, the Fondation has sealed its bona fides as an arts institution with the just-opened "Being Modern: MoMA in Paris," a collaboration with America's foremost modern art museum on view until March. The four-floor exhibit features 200 seminal works by a heavy-hitting international roster of artists – from Cézanne and Klimt to Calder and Magritte.
The exhibition represents a vast collection gathered in the decades since MoMA's inception in 1929, spanning multiple periods and genres, from late 19th century painting to modern-day video and sound art. Several works, including Andy Warhol's Campbell's Soup Cans (1962) and Constantin Brancusi's bronze Bird in Space (1928) have never been by a French audience – which, says Arnault, was the driving incentive behind the exhibit. "This exhibition marks, once again, our desire to provide the widest possible audience with the opportunity to engage with some of the world's most remarkable works of art," says Arnault in a press release.
For those hoping to see a Louis Vuitton bag on display, the closest they'll come is LV hall-of-famer Yayoi Kusama's slightly less portable shaggy chair. And as for Koons, it seems MoMA has yet to acquire one of those bags.