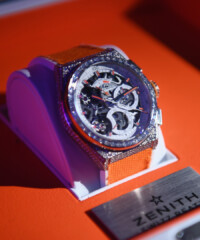 To launch the highly-anticipated new Defy collection, Zenith CEO Julien Tornare and Swizz Beatz joined forces to unveil the Defy El Primero 21 and the Defy Lab, a legendary creation that made a significant impact on the future of watchmaking earlier this fall.
The event highlight was undoubtedly the dramatic release of a state-of-the-art DJI Phantom 4 Pro drone from above the crowd of partygoers, delivering a one-of-a-kind version of the all-new Defy El Primero 21 Swizz Beatz Edition Unique that drew all eyes. On the timepiece, the vibrant orange of the strap is echoed by the use of orange accents on the gleaming white dial, nestled in a 44 mm white gold case fully set with a spectacular 288 round diamonds, and complemented by 44 baguette-cut counterparts on the bezel.  Both strap and bezel are inscribed with an inspirational quote from the music visionary: "Never let people tell you what you can't do, because sky's not the limit, it's just the view". Part of a new and fascinating chapter in time measurement and in keeping with Zenith's 150-year tradition, the Defy El Primero 21 Swizz Beatz Edition Unique also features a creative design approach to the 100th of a second chronograph.
Throughout the evening, guests were invited to participate in a raffle for the Zenith Defy El Primero 21 Swizz Beatz Unique Edition, with proceeds donated to support the Gathering for Justice, an organization founded in 2005 by Harry Belafonte, that aims to build a movement to end child incarceration while working to eliminate the racial inequities in the criminal justice system. To round off the evening, Julien Tornare and Swizz Beatz presented the proud and emotional winner with this one-of-a-kind creation exemplifying the new generation of Zenith chronographs.
Julien Tornare, Zenith CEO, said "I am thrilled and really glad to share this event with our great friend Swizz to benefit the Gathering for Justice. Zenith is experiencing a fantastic year of success and sharing it is part of our values."