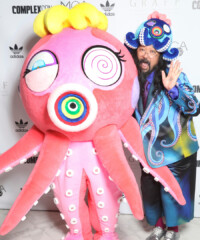 Japanese pop artist Takashi Murakami's psychedelic color schemes and cartoonish surrealism display a kind of eye-popping sensory overload, so it figures that at the opening of Takashi Murakami: The Octopus Eats Its Own Leg at Chicago's Museum of Contemporary Art on Saturday, the art was just one of several sources of stimuli. In addition to soaking in over 30 years of Murakami's genre-bending work, guests snacked on Murakami-inspired octopus sushi rolls and watched a performance by fellow artistic renegade Janelle Monáe.
The show marks Murakami's first North American retrospective in 10 years as well as the MCA's fiftieth anniversary. The artist, donning an on-brand octopus hat, personally greeted arriving guests, who included Mayor Rahm Emanuel, Nick Cave and Larry Gagosian.
Murakami's oeuvre, defined by an artistic philosophy known as "Superflat" that mixes "high" and "low" art, is one of the most valuable and provocative of any living artist; his NSFW sculpture, "My Lonesome Cowboy," sold in 2008 for a reported $15 million. His high-profile collaborations, such as a 2014 music video for Pharrell Williams's, "It Girl," are known for being commercial yet sneakily subversive. As for his tentacle-themed blowout at MCA, which raised $3 million in museum funds, it seems Murakami's grip on combining the high and the low is tighter than ever.