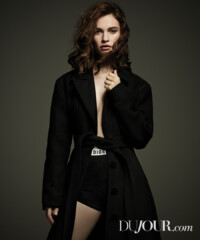 Lily James appears to have it all. And I don't just mean the head-turning classic beauty or the rocketing Hollywood career. Those are a good start. I'm talking about a loving, in-demand boyfriend and a local pub that welcomes her warmly. "Ah, it's Lily and Matt," says a barman as the actress breezes in to the North London Tavern, where we've agreed to meet, hand in hand with her boyfriend of two-plus years, the actor Matt Smith. Smith (who, if you didn't know for his role as the title character in Doctor Who, you would certainly recognize for his impeccable performance as Prince Philip in The Crown) leaves after we sit down—he has a wrap party for The Crown's second season that evening. But because James has been shooting her latest film, the WWII-era Guernsey, in Cornwall, the pair has barely caught a glimpse of each other in weeks. She wishes him luck before calling out "Love you!"—a knee-jerk outburst—and then clamps her hand over her mouth and laughs. "Oh god, that's so embarrassing. Sorry!"
Dressed in jeans ripped at the cuffs, a black crop-top, a pair of black suede loafers and with simple gold jewelry circling her neck, wrists and fingers, James could pass for any off-duty twentysomething. Then you look a bit closer and notice that the unbuttoned trench topping the whole outfit is the latest from Burberry (she's the face of the Burberry Black fragrance). After being drawn in by her alabaster skin—makeup free and flawless—and her almond-shaped brown eyes, you can't help but notice that taut waist, the source of much hysteria after the release of Cinderella. No really. Countless articles—analyses, think pieces, you name it—came out after the film, all questioning whether her "tiny waist" disqualified her from being a role model.
"There were times when it really got me down because I was the lead character of this film all about kindness and goodness, and all that people seemed to talk about was my waist," James remembers. "I was like, 'This is so bizarre; you're kind of missing the point.'"
Despite that bewildering experience, James remains mostly unfazed by the Hollywood obsession with Mattel proportions. "We all have our insecurities and things we struggle with—we're all human," she says. "I think it's frustrating, the unreal aesthetics we aspire to. They're perpetuated by what we see and the image we give out. That's why social media frightens me, because it's this constant putting out of the best version of yourself."
But her emotional resilience and well-adjusted body attitude doesn't negate the fact that criticism—no matter how unfounded—can sting. "There are still things I remember from the first time I was in the paper. I went through all the Daily Mail comments…'She's not even ugly. She's just plain.' Or stuff about my acting where I was like, 'Oh, God.' I remember being on stage and doing The Seagull. I was doing a scene and thinking of a comment about how bad my acting was. That's when I was like, 'That's got to stop!'"
Born Lily Chloe Ninette Thomson, James changed her name as a nod to her father, James Thomson, who died of cancer in 2008. Now 28, the actress was raised in the leafy county of Surrey, just 40 minutes from London, the middle child between two brothers. She grew up with a creative impulse and idolized her grandmother, the late American-born actress Helen Horton, among whose many roles include appearing as the voice of Mother, the ship's consoling computer in Ridley Scott's Alien. It makes sense, then, that it was actually James' honeyed tones that first caught director Sir Kenneth Branagh's attention when he cast her as Disney's kindest princess. 
As a teenager, James attended a local performing arts school before studying at the Guildhall School of Music & Drama, where the list of alumni includes Daniel Craig, Joseph Fiennes, Damian Lewis and Michelle Dockery. After graduation, she was cast as the lead in Fast Girls—a big-hearted indie-drama about a women's relay team. This was when she first embraced the label of "actor." "I remember I had to dye my hair blonde, and I had just left drama school," says James. "I really liked it because people would be like, 'Oh?', and I would say, 'Yeah, I dyed it blonde because I'm an actor.'" She erupts into a contagious, full-bodied laugh.
James' relatable quality, her seemingly boundless confidence, makes her the ideal Deborah—the endearing female lead and love interest in Edgar Wright's new full-throttle gangster film, Baby Driver. Wright, director of high-concept geek flicks like Shaun of the Dead, Hot Fuzz and Scott Pilgrim vs. The World, moves into darker, more mature territory in this new film. The ensemble cast also includes millennial heartthrob Ansel Elgort, with support from more established stars Kevin Spacey, Jon Hamm and Jamie Foxx.
"Edgar is this kind of incredible demon on a film set—in the best possible way—because he doesn't really sleep, and he doesn't feel like he needs sleep," she says. "We had really long days and night shoots, and he just has this relentless energy and passion for what he does—it was infectious. It was really exciting because there were cars and stunts; it was pretty cool." The film is also a bit of a departure for James, who has stacked up a long résumé of period pieces and corseted dramas, from Downton Abbey to War & Peace.
As a young actress, James has already shared the screen with heavyweights Cate Blanchett, Jim Broadbent and Christopher Plummer, to name a few. And she's been directed by some of England's finest, inlcuding Joe Wright, Sir Kenneth Branagh (twice) and most recently the indefatigable Mike Newell, best known for Four Weddings and a Funeral, Harry Potter and the Goblet of Fire and Donnie Brasco. Wright directed James in this fall's highly anticipated war drama Darkest Hour, starring Gary Oldman as Winston Churchill. She is certainly grateful, but mostly unfazed by the caliber of talent she's worked alongside. 
"What's amazing is that by the time you get a part, you've either been auditioning or working with the director a long time, or you've spent time discussing the movie," says James. "With Joe [Wright], he came and saw me in Romeo and Juliet [on the West End stage]. We had dinner and talked so much about the project, that by the time we shot the film, there was a sense of trust. I think every actor has a slight fear that they're not going to 'bring the goods,' so it's really comforting to know you're backed by a great filmmaker."
But it wasn't always so easy. Auditioning can be a daunting process, and James confesses that "no matter what time of day" she can still be known to down a Bloody Mary before stepping into a reading. "I always have to wear high-neck tops when I audition because I get this bright red rash. I just get so nervous," she says. "And I do it and I feel slightly dirty after, like, 'Oh I just had to give that,' and then they're like 'Okay, bye.' You walk out and you feel cheated."
The "dirtiest" experience came during an early audition. "It was for this Shakespearean TV show. I had to kiss the guy, and we'd just met—I had to do that with three different guys in one day," James cringes. "I didn't get the part, but I kissed three different Bill Shakespeares in one day. I wouldn't do that now."
In fact, something James is working on now is asserting exactly what she wants—what's working and what isn't—throughout the entire filmmaking process. "I've noticed that when I'm acting I'll be like 'I want another take' but . . .  Probably because I'm in a vulnerable moment, I'll say 'I think I want to go again,' and then I'll try to explain myself. But when the camera [crew] wants to go again—because the focus or light was off—they'll say, 'One more,' and just do it. So I think that's what I'll try to do," she says. "We've all bought into this attitude of apologizing and being modest, so that now when someone is actually direct and says what they want, you think they're rude. But they're not, they're just being clear!"
The actress hopes this more direct approach will trickle down to her off-set life too, where she often strives to be more decisive. Behind that endless grin, James says she's actually quite "pessimistic," and she often tortures herself over weighty decisions. "My mum really wants me to stop being like, 'I wish I had done that . . .'" she confides. "I almost bought my first flat, which would have been great, but I chickened out at the last minute—it felt like such a big step, and it wasn't quite right. I put a deposit down, and I lost money. I'm very indecisive."
That's not entirely true though, as James is certain of one thing: She knows she loves acting—all 360 degrees of it. She's driven by the thrum of working, having done so consistently since her teens. She's proven herself in serious theatre—including Chekhov and Shakespeare—has dazzled in studio films like Cinderella and invested her talents in indie darlings like 2018's Little Woods, developed by a first-time director at the Sundance Screenwriter Labs. "I'm definitely ambitious," says James, "and I really love acting, so I want to keep working and getting better. I find it's like a drug: It's thrilling and addictive. Sometimes I think I'm tired, and I just want to go on holiday and not work. But then I read a script and I go, 'Oh fuck! I'd love to play that part!' I'd love to just be that and exist in that world—that is the best feeling."