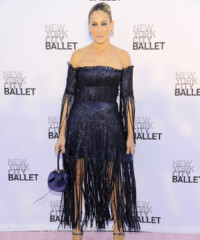 Ballet and fashion, as art forms and fodder for fairytale and fantasy, have always gotten along like a house on fire. On Friday, that house was the David Koch Theater at Lincoln Center, which hosted some of both industries' brightest stars for the New York City Ballet Fall Fashion Gala. The event's grand marshal, NYCB Board Vice Chair and noted tutu-wearer Sarah Jessica Parker, gathered a cultural mixed bag including legendary ballerino and Parker's former on-screen love-interest Mikhail Barykshnikov, Bravo's Andy Cohen, and Nicky Hilton Rothschild.
The evening centered on four original pieces choreographed by NYCB dancers and outfitted by a respective design visionary. The first dance was principal dancer Lauren Lovette's costumed by Fernando Garcia and Laura Kim of Monse, followed by resident choreographer Justin Peck's costumed by Tsumori Chisato, 18-year-old dancer Gianna Reisen (the company's youngest) costumed by Virgil Abloh, and soloist Troy Schumacher costumed by Jonathan Saunders.
The gala, with its displays of physical and artistic might, was a high point for fashion month, bringing together multiple heat-seeking designers, particularly Garcia and Kim, who were named creative directors of Oscar de la Renta at the top of the month, and Abloh, who had just memorialized Princess Diana in his SS18 presentation earlier that day.
And while certain designer-wearing ballet dancers have dabbled in the dark arts, those of the NYCB gala only used their powers for good: in the end, the evening raised $2.6 million for NYCB.