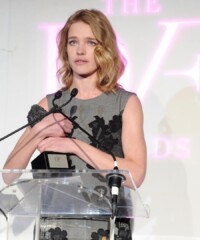 "I have never met a woman that is not strong," Diane von Furstenberg told the audience of the fourth annual DVF awards at the United Nations on Friday night, "they don't exist." And looking around the room at the women who were recognized (Robin Roberts, Natalia Vodianova, Adeisha Farid, Sunitha Krishnan and Tammy Tibbetts) and those there to present (Gayle King, Gabrielle Douglas, Gloria Steinem and Olivia Wilde), it's clear that the fashion designer was speaking the truth.
The evening celebrating female empowerment began with a performance from English pop singer Paloma Faith, who sang three songs from her latest album, including a soulful ballad called "Black and Blue," followed by a ceremony that honored the philanthropic efforts of the women that evening, and included heartfelt stories and messages of hope.
The Russian supermodel, and face of Stella McCartney, Natalia Vodianova received the inspiration award for her continued efforts in educating and supporting families and children with special needs through her organization, the Naked Heart Foundation. As a teen, Vodianova witnessed firsthand how difficult it was for her mother to raise her younger sister, who was born with autism and cerebral palsy. Before accepting her award, the model and mother of three told DuJour backstage how much joy it brings her to see each child progress. "When I see a boy – who like my sister – is not speaking, not walking, not showing any signs of understanding the world and then at five he's a completely different child, I cry my eyes out because of happiness," she said. "Love is what every child needs to survive."
Good Morning America anchor Robin Roberts is no stranger to adversity as a survivor of both breast cancer and MDS, a rare blood disorder. Roberts explained that she searches for the purpose behind every challenge, and tries to, as her mother would advise, "make your mess your message." As she accepted the lifetime achievement award, Roberts said, "The tragedy is if you don't take the time to find the reason why you are going through it."
And like the women that were honored that night, von Furstenberg demonstrated her own strength by attending the ceremony days after a ski accident left her with a broken left arm. (She told her co-host for the evening Tina Brown that there was no way she was going to miss her own ceremony.) And in true DVF fashion she sported a custom-made arm sling in her signature link print pattern.
Take a look in the DuJour gallery to see more from the event.