Workout: BFX Studio
The concept: A modern, bi-level gym in Chelsea with classes from stadium-style spinning (Ride Republic) and HIIT training to barre, yoga and personal training with Technogym equipment and Pilates reformers. Two additional locations, in NYC's Financial District and Boston's Back Bay, are expected to open in December.
Intensity: Moderate to high. Burn classes include eight rounds of different intervals that combined resistance training using kettlebells and medicine balls with Tabata pushes and plyometric bursts.
Best suited for: Gym rats looking for everything under one roof. 
The experience: BFX has recruited instructors from Exhale, The Fhitting Room and Pure Yoga for its vast array of class offerings, including Build, Burn, Barre, Box & Bell, Power Yoga and Cardio Dance. 
Amenities: A digital check-in system and Intelligent Nutrients' all-natural products in the gorgeous locker rooms.
In their own words: "We offer clients the boutique-style intimacy and quality they had come to crave, but with variety that was missing in the single modality boutiques," says Robert Giardina, CEO of Town Sports International." 
What it costs: $30 per class
555 6th Avenue, bfxstudio.com
Workout: CrossFit Solace
The concept: A 10,00 sq ft Murray Hill space dedicated to out-of-the-box CrossFit options from expert founders Jim Loperfido, Tristan Keeffe and Chad McDonald.
Offerings: CrossFit, Solace Strong, freestyle and yoga classes (helmed by Pure Yoga guru Nina Marchione).
Intensity: Moderate to high.
Best suited for: Those who love to drop weight but not in a staid, black box gym.
The experience: The venue features custom engineered Olympic lifting platforms, athletic turf for plyometric and sled work and custom pull-up bars.
Amenities: Luxe wood-paneled locker rooms with bath products by Gilchrist & Soames, personal training and nutrition counseling.
In their own words: "We know that CrossFit changes lives," says Loperfido. "Our goal with Solace was to find a facility large and inviting enough to bring our perspective on health and fitness to Manhattan. We provide the best recipe of amenities, equipment, coaches and services to achieve that goal."
What it costs: Founding membership rates from $2,100 for one year for a limited time with drop-in classes and monthly memberships also on offer.
38 East 32nd Street, crossfitsolace.com
Workout: 305 Fitness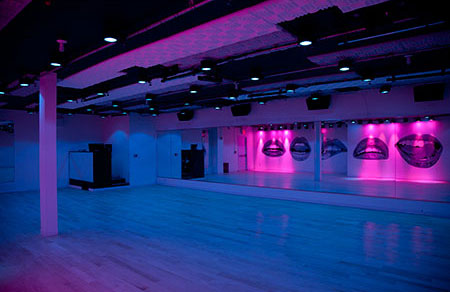 The concept: Sadie Kurzban founded 305 Fitness two years ago after graduating from Brown University. The pint-sized Miami native churns out heart-pumping cardio dance classes with live DJs spinning.
Intensity: High. You can burn up to 800 calories in an endorphin-packed, 55-minute full body class (featuring dance moves, sports drills and high intensity interval training). But you can catch onto the moves pretty quickly.
Best suited for: High-intensity cardio addicts who love explosive tunes.
The experience: A 6,000-square-foot Greenwich Village flagship allows Kurzban and her instructors a private studio for their "rave-meets-workout" classes.
Amenities: Performance-enhancing sprung wood floors, a specialized audio system and state-of-the-art DJ booth and a curated light show in every class.
In their own words: "Without a space of our own, we were forced to be underground for two years," says Kurzban. "Because of our underground set-up, we built this tremendously exciting sense of community that can't be manufactured top-down with millions of dollars."
What it costs: $32 per class.
18 West 8th Street, 305fitness.com