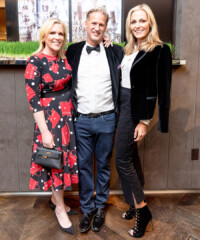 On Thursday, October 25, Martha Stewart and Kevin Sharkey, Executive Editorial Director of Martha Stewart Living Omnimedia, celebrated the deluxe version of their book Martha's Flowers at Baccarat's Upper East Side location. Prior to the event, Jim Shreve, Baccarat's President & CEO for North America, hosted a Facebook Live segment featuring Stewart and Sharkey demonstrating how to craft beautiful floral arrangements using roses from BloomsyBox, who Martha will be launching a rose subscription partnership on December 1.
Guests sipped on wine from Martha Stewart Wine Co. and savored tasty hor d'oeuvres while admiring Baccarat's luxe displays of lush floral arrangements. Both Stewart and Sharkey signed several copies of Martha's Flowers in the Peony Room, a space painted floor-to-celining with vibrant peonies complementing a green felted carpet. Guests were able to purchase Baccarat's beautiful collection (perfect for the holidays) and 20% of the evening's sales were donated to the Martha Stewart Center for Living at Mount Sinai.
Notable attendees included Jason Binn, Geoffrey and Margaret Zakarian, Jamie Tisch, Marjorie Gublemann, Carolyne Roehm, Kira Faiman, James Reginato, Jacqueline Terrebonne, Christopher Spitzmiller, Eddie Roche, Chloe Flower and Gillian Miniter.
Click through the gallery above to see images from a flourishing event with Martha Stewart and Kevin Sharkey at the Madison Avenue Baccarat location.