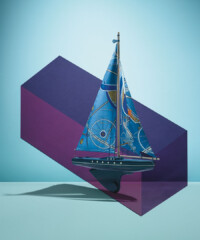 Petit h, Hermès' collection of celebrated pieces crafted from discarded materials and objects from the French heritage brand's workshops, has made its West Coast debut. Following a private preview in Los Angeles, held at the Schindler House by Petit h Artistic Director Pascale Mussard, it is now on view in a concept shop at the brand's South Coast Plaza boutique through June 29.
Launched in 2011 by Mussard (a sixth generation descendant of the founder of Hermès), the traveling collection boasts both limited edition and one-of-a-kind pieces by Hermès designers and artisans, from a skateboard sculpture crafted from a porcelain fish dish to a leather bookcase shaped in the form of a baby elephant. "What is very interesting for me is that, after 35 years of being at Hermès, it is incredible that I still learn every day," says Mussard, who started the line as a passion project and calls it her "dream job." As to what she hopes to achieve with Petit h? "I want people to smile and respect and understand why Hermès is so unique. I know that unique is not better than others—but it's different. We have a singularity that nobody has because we have our story and our experience."
Click through the gallery to view some of the pieces from the collection.
MORE:
A New Look for Hermès on Rodeo Drive
Hermès Launches Equestrian Saddles for Le Saut
Welcome to Miami, Hermès