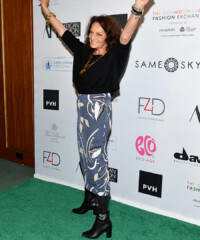 This year's annual First Ladies Luncheon was held at the Pierre Hotel in New York City during the 73rd Session of UNGA. Evie Evangelou, founder of Fashion 4 Development, alongside international First Ladies, style icons, political influencers and diplomats from over 100 nations gathered to celebrate the vast progress made towards innovative social change in support of the UN Sustainable Development Goals. The event recognized several honorees including Ellie Goulding, Eco Award recipient; Melanie Steiner, Leading Lady Award recipient and Amber Heard, Angel Award recipient.
F4D organization focuses on creating a stronger human understanding of diversity, while putting a spotlight on sustainability and the importance of preserving our environment. The merging of the two worlds of fashion and sustainability was perfectly executed through the Commonwealth Fashion Exchange Project, a collection of sustainable designs created by both established and emerging talent in collaboration with artisans from across the Commonwealth's 53 countries. The afternoon runway show of looks was ​powered by Eco Age in partnership with Swarovski​, ​The Woolmark Company and ​MATCHESFASHION.COM​, and were originally unveiled at Buckingham Palace during London Fashion Week in February.
Following the runway show, fashion mogul Diane Von Furstenburg offered a heartfelt introduction for Goodwill Ambassador for North & Latin America Fabiola Beracasa Beckman before Melanie Steiner, Chief Risk Officer for PVH, was awarded the Leading Lady Award. Ahead of collecting her award, Steiner said of the company she works for, PVH, "We're reimagining how we make our products, how we produce them, the fabric we use, the way we design, and the way we put it together and then how we use it and reuse it."
Later, Livia Firth, presented this year's Fashion 4 Development Award to philanthropist, humanitarian, sustainability advocate and founder/investor of Net-a-Porter, Carmen Busquets, for her work in recalibrating the luxury fashion industry to benefit the world. On being honored at this year's luncheon, Busquets said, "We are all being honored. It's part of being in a community, that's my honor. My work depends on the work of everybody." She added how she is so inspired by the women in attendance, along with her friends, family and beyond. Another one of the day's honorees–and an inspiring woman–was Ellie Goulding, recipient of the Eco Award. "I pretty much dedicate my social media to my music and the environment," she said of how she spreads awareness. "I try and talk about climate change without it being a scary thing, I try and be a climate optimist and really, I want young people to be as passionate about saving the environment as I am." By encouraging the younger generations to make a change and invest in their future, these women like Goulding are working to save our planet.
The inspiring luncheon featured a heartfelt acceptance speech by actress and L'Oreal's newest global celebrity spokesperson, Amber Heard, Angel Award recipient. Following Heard's mission in support of Syrian refugees in Jordan, the young starlet became even more active in working to better the lives of the women and children around the world.
Though there were dozens of impressive women with admirable missions and goals, the recipient of the Women's Empowerment Award, Edwina Dunn, had a very simple but powerful message saying, "It's about girls taking the lead in their own life." Dunn has created the Female Lead, a female empowerment initiative that tells the stories of Meryl Streep, Tina Brown and many other women in order to showcase diversity and the different definitions of what success looks like.
By merging fashion industry leaders with sustainable living and the preservation of culture, F4D is actively committed to educating, empowering, enhancing and enriching.
Click through the gallery above for a look at the 8th Annual First Ladies Luncheon.