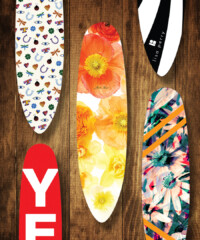 This Saturday, a rainbow of bikinis and paddle boards can be found on the beaches of Sag Harbor for the Breast Cancer Research Foundation's annual "The Hamptons Paddle & Party for Pink" fundraiser. Along with a paddle board race, there will be a sunset party at the home of Richard and Lisa Perry, as well an auction featuring paddle boards designed by the likes of Kim Kardashian, Martha Stewart, Tory Burch, Aerin Lauder and DKNY, among numerous others.
Moreover, workout goddess Tracy Anderson will be partnering with the fundraiser, and she and Gwyneth Paltrow will be auctioning off a private two-hour workout, valued at $15,000. Tracy is a close friend of Maria Baum, who has been the event co-chair for numerous years, and she had this to say of her friend: "She's one of the most incredible women I've ever met in my life, so it was a no brainer for me to want to get behind her event. Paddle boarding meant a lot to her when she was fighting breast cancer. For her it was empowering, and it was her time to go out and deal with what nature had given her, and then go back to her family and her four children and put on that amazing smile and strength that so many women do.
Click through the gallery of celebrity-designed paddle boards on auction this weekend.
MORE:
4 Travel Tips for the Hamptons-Bound
Hot Hamptons Debuts to Check Out
The Insider's Guide to Montauk