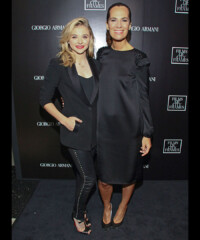 There are hundreds of parties held during The Toronto International Film Festival, but Armani's Frames of Life Films of City Frames fête literally went above and beyond.
The venue was at the top of Toronto's CN Tower—115 stories above the city's skyline. The event was co-hosted by Giorgio's niece Roberta Armani and director/producer Ed Zwick. And though the night was filled with stars, the evening's guests of honor were students from six of the world's most prestigious film schools. Each had been tasked with creating a short film celebrating their cities through the lens of Armani's iconic eyewear.
"My uncle believes in supporting young talent," said Armani. "Not just in fashion but in all artistic endeavors." The Films of City Frames initiative was created in association with Luxottica and Rai Cinema to give aspiring directors a place where they could learn the craft of filmmaking through experimentation and collaboration. 
Armani's involvement with film goes way back, most notably for Richard Gere's wardrobe in 1980's American Gigolo. In fact, Zwick's first job in film was on the set of that film. "(Director) Paul Schrader was someone with whom I used to play baseball," he says. "This is where I first met Mr. Armani."
With the effortlessly charming Armani holding fort, the party felt like a celebration—Italian style. There was a feeling of famiglia as The Hurt Locker's Anthony Mackie, The Good Wife's Josh Charles and comedian Nick Kroll chatted at the bar, which was well stocked with prosecco, wine and aperol. Armani was overjoyed to see the students mingling with Oscar winners such as Denzel Washington, Holly Hunter and Melissa Leo as their shorts screened in the background ("It was such a beautiful day to see the films all played together," said Armani. "I love them all.") Gigolo's Gere made a late appearance alongside Jessica Chastain who was dressed in Armani. And Quvenzhané Wallis and Chloe Grace Moretz were there to represent the next generation of actors.
For the emerging filmmakers, being able to share their stories with an international audience was the most important part of the experience. The six short films will be available for the world to see as of September 8th at framesoflife.armani.com.