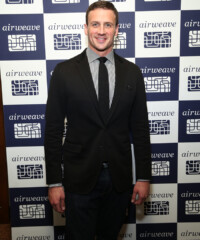 Airweave—the manufacturer of heavenly mattress toppers that athletes swear by—fêted 11-time Olympic medalist Ryan Lochte at New York's Kitano Hotel last night. The event was a celebration of the one-year anniversary of the opening of the Japanese brand's first United States store in SoHo as well as a toast to brand ambassador Lochte.
The swimmer says Airweave does not disappoint when it comes to providing a more restful sleep. "On a regular mattress my shoulder gets stiff. I can feel it when I wake up. But when I'm sleeping on an Airweave, I wake up like I just slept for 48 hours straight. I'm ready to go," he said. Incorporating the best sleep possible into his training routine could make all the difference when Lochte arrives in Rio de Janeiro with Team U.S.A in August. 
Click through the gallery to see pictures inside the event.