You look in the mirror and see it – big pores, dull looking skin, some random acne scars and creases that even your trusty filler won't get rid of. The holidays are here and you have to look your best, but how, oh how, can I possibly look my best when I am run down, sleep deprived and need an all over lift?
Fret no more! The newest and most popular of skin treatments is changing famous faces everywhere from Hollywood to Hell's Kitchen with just a pass of a magic wand. The wand I am referring to is from the most advanced radio frequency device on the market today, The EndyMed Intesif Laser, the latest in microneedling technologies to turn back the hands of time to where we want them to stay!
"Microneedling using Radio Frequency, also known as collagen induction therapy is one of the most in-demand treatments in aesthetics today," comments Tracey Prescott, RN, founder of one of California's most renowned medical aesthetics practices, Beauty With A Mission. "I use it on patients who want skin tightening, and it's especially good at cleaning up acne scars, stretch marks and scar tissue."
It doesn't hurt that celebrities like Gwyneth Paltrow have been raving about the previous forms of microneedling for years of course but the process has gotten even better over time. The basic idea behind it is that the needles subtly damage your skin which immediately puts your body's collagen response into action, thereby making more collagen and creating a plumper, healthier looking you.
Think of it as planting new grass — by putting the plugs of grass in, the new grass eventually grows around it. By injuring the skin with tiny needles, new collagen grows around the injuries. The skin's repair process results in a thicker dermis with a reduction of fine lines, acne scarring and an overall benefit to the texture and tone of the skin.
Does it hurt? I didn't find it painful one bit but maybe that's because of the numbing cream. "I use the best topical numbing cream for my patients, not because the treatment hurts too much but because it makes the process much more comfortable," she says.
Once you are numb, the microneedling hand-piece (or magic wand, as I like to refer to it) works by delivering short pulses of radiofrequency energy through an array of 25 sterilized, gold-plated micro-needles, which puncture the outer dermis to stimulate the skin into repair mode. The tiny needles used in the procedure create micro-injuries to the skin, the skin goes into repair mode and produces collagen and elastin resulting in smoother, glowing skin.
Do you bleed? "Nope!" exclaims Prescott. "The energy delivered via the radio frequency coagulates the vessels so no bleeding will occur unlike the older models that don't use radio frequency."
What the process also does is create superficial micro-channels allowing you to get products that contain things like growth factors or platelet rich plasma or hyaluronic acid deep into the dermis where they can do the work more effectively. Prescott insists her clients use SkinMedica's TNS Serum and Recovery Complexes after but I noticed that when I combined it with my absolute favorite La Mer lotion, one month later, I got compliments left and right on how well rested I looked (ha! not so much).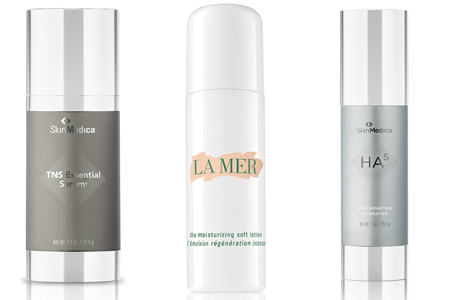 "The procedure is quick and easy and you will usually see results after one or two sessions but the more you stay with the process, the better results you will see," she continues. "The gold standard is three treatments."
The best part of my own experience was seeing immediate improvements in my skin following the first session, even as my skin was healing and recovering. It was a little red, like a light sunburn but I could have gone back to work…if I had wanted to.
All in all, at $700 per session, I plan to follow this one up again to continue leaving the hands of time where they belong – behind me.