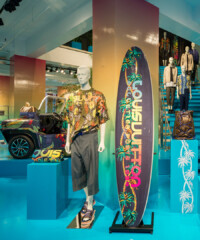 Following his triumphant Fashion Week swan song yesterday, outgoing Louis Vuitton menswear director Kim Jones continues to make splashes. Starting today, New Yorkers can get their hands on Jones's penultimate collection at a beach-themed showroom dedicated to his Spring/Summer 2018 looks.
Arriving by way of Miami Design District, the traveling pop-up will occupy the erstwhile Donna Karan flagship at 655 Madison Avenue until February 15. Outfitted with LV-branded surfboards, sunset-hued ombre walls, and a customized Moke buggy centerpiece, the space offers a tropical reprieve from the icy-cold temperatures outside.
Complementing the luau vibes is the collection on display, with Hawaiian shirts, Teva-inspired slide sandals and, of course, bags. While known for ushering streetwear into the venerable fashion house, Jones reportedly gravitated to the vacation theme after reading the book Atlas of Remote Islands: Fifth Island I Have Not Visited and Never Will. But true to Jones's street-centric legacy, the escapist collection also incorporates slick, rave-inspired touches like sheer fabrics and iridescent sunglasses.
While it's been rumored that Jones's next gig will be at Burberry, if his SS18 designs are any indication, his first stop will be a white-sand beach.