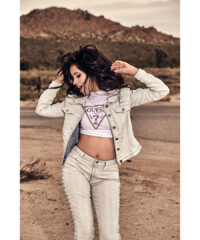 Camila Cabello continues to catch fire in the Guess Jeans Fall 2017 ad campaign, in which the rising pop star serves body and big hair in the remote California desert. Cabello was named the incumbent Guess girl, a title previously held by Drew Barrymore, Anna Nicole Smith, and Paris Hilton, in the wake of her breakthrough solo performance at the Billboard Music Awards in May – the first following her departure from mega-group Fifth Harmony.  The new photos, several of which are shot in Guess's trademark black-and-white, reflect Cabello's maturing look and unshakeable independence.
"I couldn't be more excited to partner with Guess on this incredible campaign," Cabello says in a press statement. "I've grown up loving their aesthetic and not in my wildest dreams did I ever think I'd be lucky enough to be a part of it." Indeed, the embellished push-up bustier tops and faux-shearling coats are fit for a girl group. But here, Cabello's only scene partner is male model Alex Dellisola.
Like any up-and-coming diva, Cabello's own brand continues to diversify: as of today, you can also find her in the groundbreaking interactive video to her song "Know No Better" with Major Lazer. 
 Click through the gallery to see the rest of the Guess Fall 2017 lookbook.