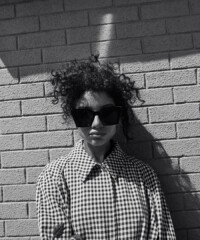 Most commonly known for his work with Kanye West, Virgil Abloh is no longer fashion's best kept secret. The (newly appointed) member of the CFDA and founder of Off-White has seen his fair share of exclusives and high-fashion concepts, yet today he's releasing a special limited edition collection with Warby Parker: Off-White c/o Virgil Abloh™.
Partnering with eyewear's definitive cool kid, Abloh has designed a collection of three angular styles, in three sizes—Small Sunglasses, Medium Sunglasses, and Large Sunglasses—and each are an updated take on your everyday pair of thick, luxe black sunglasses. Details like exaggerated proportions (the large frames are really that large) and zero base curve lenses with blue anti-reflective coatings take your classic frames from fashion to fashun, or in industry talk, "Abloh-level-cool."
Starting today, the frames retail for $95 and are available online and in Warby Parker stores, Off-White Toronto™ and Off-White New York™.
Click through to see more from the Off-White c/o Virgil Abloh™ campaign.
All Images Courtesy of Warby Parker