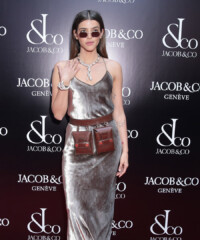 Last night, Jacob & Co. celebrated the reopening of its flagship store on 57th between Park and Madison (a.k.a. Billionaire's Row) in characteristically flashy fashion. With a fleet of sports cars parked out front and a celeb-studded crowd inside, including Debra Messing and Adrian Brody, founder of Jacob & Co. Jacob Arabo and special guest host fashion editor Carine Roitfeld toasted to the flagship's diamantine new design and heralded future expansion by the larger-than-life jeweler.
A magnet for celebrity clients from Beyonce and Jay-Z to Elton John, Arabo earned fame in the 2000s with the moniker "Jacob the Jeweler." Originally opened in 2004, the New York flagship's facelift began in June of 2017—the first phase in a planned growth spurt that will include Jacob & Co. locations in Hong Kong, Paris and Moscow.
The 10,000-square-foot New York store, nicknamed the Jacob & Co. townhouse, boasts a geometric, two-story facade and futuristic interior. Led by Arabo himself in concert with Roman Vnoukov of the Design Studio Romani, the yearlong renovation included several elaborate design features, including a mirrored, three-dimensional ceiling modeled after the dial on the 2016 Atronomia Meteorite watch, and a see-through floor exposing the bedrock of the townhouse's foundation.
Furnished with caviar canapés and champagne, guests were invited to explore the store's VIP areas—which include a private lounge in the back and executive office spaces upstairs—an immersive experience Arabo hopes to foster throughout the store. "The design of the new boutique takes clients on a journey throughout our collections, while offering them the same excitement they would feel upon discovering one of our new timepieces or jewelry items," he says in a statement. With its blinged out design and VIP experiences, it seems Jacob's newly minted Manhattan headquarters will be rolling out the red carpet all year round.
Main image: Carine Roitfeld (photo: courtesy of Kelly Taub/BFA.com)