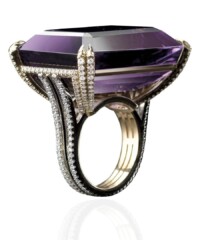 It was the stones themselves that inspired an ethical eureka moment. The inspiration came from the color of the emeralds that mining conglomerate Gemfields unearths at its Zambian location. "The whole world was talking green—ethical, social—so we decided to make them green at heart," explains CEO Ian Harebottle. His firm, a prestigious source for colored stones, is now at the forefront of sustainable mining: Old pits aren't filled in but filled with water and fish for food, while 300,000 trees are planted as carbon offsets. Workers are well paid, with clinics and schools established for their families. Gemfields isn't alone in focusing as much on ethics as aesthetics. Tiffany & Co. was among the first of the major jewelers to discontinue selling or using Burmese rubies and coral, for political and environmental reasons. It even set up its own diamond unit, Laurelton, to monitor the supply chain. As for Bulgari, it carries sustainability through to its sister hotel brand—the London property even has bird- and bat-nesting boxes on the roof and electric-car charging stations.
This movement could well accelerate, says Marc Choyt, who runs the group Fair Jewelry Action, which campaigns for ethical practices. "Engagement rings represent love and commitment, but the gold could have been produced by child labor or destroyed massive ecosystems," he says, "It doesn't feel good." As Ian Harebottle puts it, a sustainable stone can be judged by more than just the four Cs (cut, clarity, carat and color). "This gives you the fifth C: confidence."
Click through the gallery to see the latest from Gemfields.
MORE:
The Sustainable Side of Modern-Day Resorts
The West Coast's Diamond Ring Obsession
How to Buy Estate Jewelry