H&M-owned retailer & Other Stories is arguably the coolest sibling of the fashion giant's other, more approachable brands. With teams of designers in Paris, Los Angeles and Stockholm, the store consistently harnesses what it is to be on-trend without being "trendy" through minimalist collections that tastefully nod to what's in style.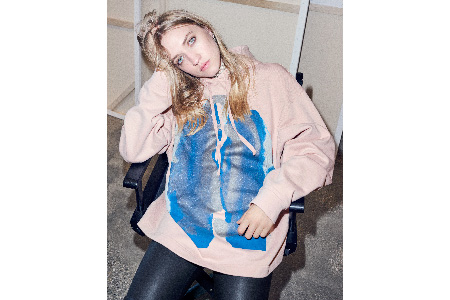 Continuing their cool streak, the brand has tapped the queen of cool, Kim Gordon, for a design collaboration called the Kim Gordon Co-lab Collection, hitting stores today. Inspired by Gordon's model-artist daughter Coco, the collaboration began in the Sonic Youth cofounder's painting studio. Beginning with the pronoun "her," Gordon came up with a list of various evocative words and phrases – including "they," "the other," "the shadow," "the end" and "morning mirror" – and then hand-painted them in metallic ink onto rice paper. These cryptic creations then became the graphics for the collection, printed on organic cotton and silk tees. With its super-soft materials and artsy visuals, the line takes a basic wardrobe staple and makes it the new "kool thing."
The Kim Gordon Co-Lab collection is now available in select stores and on stories.com.