Sotheby's is no stranger to immaculate diamonds—five others that tipped the 100-carat scale have sold between 1990 and 2013—but this rare stone is unlike any others. The 100.20-carat, D color, internally flawless, type II gem is in a league of its own thanks to its shape, size and jaw-dropping presence.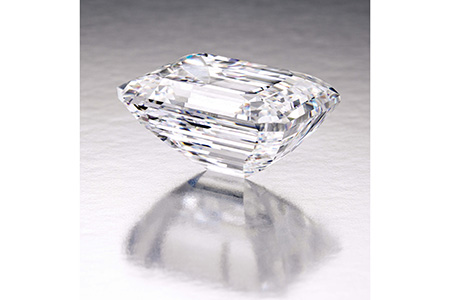 "The color is whiter than white, it is free of any internal imperfections and so transparent that I can only compare it to a pool of icy water," said Sotheby's Jewelry Department Head Gary Schuler. "It is the first true emerald-cut diamond over 100 carats to be offered at auction."
The rough cut, originally from South Africa, weighed over 200 carats and was mined by De Beers. The current owner spent over one year studying, cutting and polishing the stone to perfection. At auction, it is estimated to sell for $19-25 million.
The extraordinary diamond will be sold at Sotheby's Maginificent Jewels auction on April 21 in New York City.