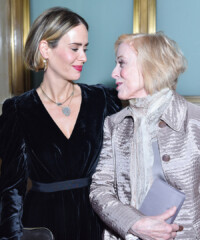 From Taylor Swift to David Bowie, most are on the same page when it comes to the importance of reading. But the struggles of 2 million New York City adults below an 8th-grade reading level are another story. Hence Literacy Partners' annual gala, which raises awareness and funds for the education nonprofit's mission to end adult illiteracy one pupil at a time. And while endorsing reading is a classic celebrity swerve, the 2018 Literacy Partners Gala at Cipriani Wall Street last night offered a special blend of celebrity cache and literary spirit; in addition to supporting free reading classes for low-income adults, the evening also honored the program's co-founder, legendary celebrity journalist Liz Smith.
Smith, the gala's longstanding hostess, passed away last year, marking the end of her decades-long reign as America's tabloid queen. Standing in her stead as last night's MC was ABC anchor Cynthia McFadden, who introduced a litany of guest readers and speakers including journalist Lesley Stahl (following her head-to-head with Education Secretary Betsy DeVos) and writer Junot Díaz, who read from his forthcoming children's book Islandborn, as well as it-couple Sarah Paulson and Holland Taylor. Paulson read from Donna Tartt's Pulitzer-winning novel Goldfinch, the subject of a forthcoming Hollywood adaptation in which she will star, while Taylor, a lifelong friend of Smith's, recalled the gossip doyenne's lofty literary tastes.
"Everyone who knew her understood that no matter what they were up to, she would almost always rather be reading a book," Taylor said. "Once when I was staying with Liz for a few days, I came in late one night to find her propped up in bed, deeply focused on Gibbon's History of Rome."
The evening's readers also included a student of Literacy Partners, Queens resident Moravet Espinoza. Flanked onstage by her children, she thanked the program for introducing her to reading and expanding her prospects as an immigrant.
For his devotion to literacy and philanthropy, the event honored Univision president and CEO and immigration activist Randy Falco. "It's [harder to encourage reading] when you might be able to become president without ever reading a book," Falco remarked. But despite the less-than-enlightened political climate, the evening's tone retained the can-do optimism of a "Read!" poster; in lieu of flowers, bouquets of children's book classics like Curious George and Olivia the Pig served as centerpieces to the dinner of burrata and sea bass.
Click through the gallery for a look inside last night's reading rainbow.