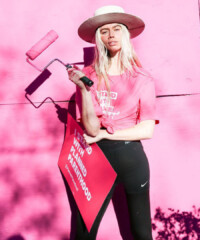 Last Friday, Senate Republicans passed a sweeping tax bill that had been widely denounced for, among other things, language regarding "unborn" children. While the language was removed before its passage in the Senate, the original bill served as the latest call to action for the "IStandWithPP" movement sparked earlier this year. In fact, in a two-day demonstration later that weekend at the busy intersection of Houston and 2nd Avenue in Manhattan, figures from the art and fashion communities did more than stand; they painted.
Organized by Insta-famous cartoonist Arianna Margulis a.k.a. @butlikemaybe and Planned Parenthood of New York City, the demonstration centered on a communal mural painting exercise to promote women's health. Throughout Friday and Saturday, participants including models Paloma Elsesser and Alana Zimmer dabbed pink and white paint onto Margulis's declarative design, which read "Don't F With Us Don't F Without Us" in bubble font – a well-timed sentiment given the hasty, controversial passage of the 500-page tax bill.
Margulis's sympathetic, self-effacing cartoons are, while not overtly political, drawn from a distinctly female perspective, and have caught the eye of everyone from Reese Witherspoon to MTV. Her mural marks the latest crossover collaboration by Planned Parenthood, following partnerships with Proenza Schouler and CFDA. Click through the gallery to watch it all come together.