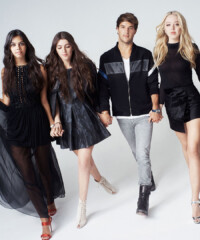 Down a private drive in the Hamptons, past a sign that reads "Warren on the Cobb," sits a sprawling clapboard house, complete with a sparkling baby-blue pool, monogrammed deck furniture and the pièce de résistance floating expectantly in the center of the pool: a giant inflatable swan.
It's raining today, the second weekend of the summer, and the house is full. A Japanese camera crew has flown in to interview Andrew Warren, the 22-year-old grandson of fashion mogul David Warren, who made his name in the '70s with the sort of prim and polished "social occasion" dresses that women bought at Bloomingdale's and Saks. The younger Warren is a budding fashion mogul himself, with a collection of edgy ready-to-wear pieces he launched in 2013 called Just Drew. Though the reporter, whom Warren calls "like the Katie Couric of Japan," is ostensibly here to talk about the line, her questions inevitably return to the topic of Warren's friends, a young, beautiful, pedigreed group that appears throughout Warren's widely followed Instagram account.
Warren is at once slighted and nonplussed. He knows his friends are interesting to strangers. He's helped make them that way, casting them in his lookbooks and leveraging their equally famous names to a collective advantage with the help of social media. If Warren's Instagram feed (@ADWarren) feels art directed, that's because it is. He handpicks his crew—which at the moment includes Gaia Matisse, Kyra Kennedy, Reya Benitez and Tiffany Trump—as if putting together a jigsaw puzzle, "weeding out," as he says, the ones who don't fit in. The photos they share on social media tell the story of an enviable set of lives intertwined, sipping rosé in infinity pools by day, sipping rosé on balconies overlooking the Marais by night—a picture-perfect posse of wealthy progeny.
And yet, Warren insists, they're not all about popping bottles and digging into their trust funds. They have professional ambitions, too. In fact, it's that shared desire to pave their own way and prove they're not just spoiled brats with Birkins that connects this fivesome the most. They can't help it if, as Matisse says, they also happen to "look fucking good on a swan."
Matisse (@GMatisse), who met Warren in middle school, is the great-great-granddaughter of French artist Henri Matisse. She sees broadcasting her daily escapades on social media as a strategy, rather than a brazen ego-feed. She's an aspiring actress and model, and who knows? Perhaps the scantily clad selfies she shares with her 13,000 Instagram followers will upthrust her profile; score her the right agent; land her future movie roles.
Despite her pedigree—her father, Alain Jacquet, who died in 2008, was also an artist—Matisse says a career as a painter was never in the cards for her. "Acting is my art form," she professes, batting her blue-mascara-coated lashes. She's been working with "Bradley Cooper's acting coach," she points out, since she was 16. "I met her randomly when I was having dinner with Mickey Rourke," she says. "I just need to get an agent now."
Matisse insists that she didn't grow up overindulged. She went to public school in New York City and recounts stories of shopping with her mother for $15 sweatpants. " 'Matisse' was never a thing," she says, though she's opted to go by her mother's more famous last name. "Money was never talked about."
Reya Benitez, the 23-year-old daughter of John "Jellybean" Benitez and a friend of Warren's since high school, tells a similar story. Her father was the resident DJ for Studio 54 and has produced tracks for Madonna and Whitney Houston. Benitez points out that she started hostessing at her mother's restaurant, The Coffee Shop, when she was 13. These days, she works at a concierge management company but is toying with the idea of following in her father's footsteps as a DJ. She's eagerly working to grow her social media handle, @ReyaBenitez, which currently has some 2,200 followers. "Social media lets [people] see who we are through what we do," she says. "Everyone always says [my DJ name] should be Little Bean, but I want to create my own name without any help from my father. I don't want to be overshadowed by him."
Social media is, of course, what makes this generation of famous progeny different from its predecessors, both offering them opportunity and presenting a challenge. While it's hard to imagine, say, Sofia Coppola posting figure-flaunting photos of herself to collect followers, maybe she would have, given the option. For Warren and his crew, it's hard not to harness the power of social media, now that it exists—especially when every day is as Instagram-worthy as it is for them. That said, there are plenty of people who accuse the group of flashing the wealth they did nothing to earn, and many have tried to turn their lives into something of a punch line. Warren's feed is routinely pilfered for images that end up on @RichKidsofInstagram, an anonymous account that highlights the most obnoxious and rubbernecking-worthy posts from wealthy children on the Web.
While this annoys Warren—it's not about being showy; it's just how life is and besides, he says, "I just really like taking photos"—he acknowledges that the attention is free, and not unwanted, promotion for his brand. He has vast, lofty goals for Just Drew ("I could see it becoming something like a Givenchy," he says) that he thinks social media will help him achieve. And it very well might: Many of his regrammed photos feature the girls in Just Drew, posed alongside the designer. Over the last year, Warren's line has expanded into two boutiques. He's currently in talks with international distributors, an accomplishment he chalks up to relationships he's cultivated. "Everyone knows Andrew. All his friends come in and buy," says Jeff Goldstein, the owner of Blue & Cream, the first boutique to carry his line.
Kyra Kennedy, the 19-year-old daughter of Robert F. Kennedy Jr. and the late Mary Kathleen Richardson, was scooped up by Warren in Aspen last December and quickly became a fixture of Warren's feed, appearing in photos at nightclubs and in hotel suites. Kennedy experienced her first bout of infamy earlier this year after a newspaper article claimed she attempted to use her older half-sister's passport to get into a nightclub. When she was denied, she allegedly responded, "I'm a Kennedy. Google me." (The drama "was basically fabricated," she says.) Still, the embarrassment kept her from attending an internship for two weeks. "I couldn't bear to see anyone," she says. "My dad said, 'I'm sorry, but hiding is not the right thing to do. You just have to face the truth and be like, this is not me. This is not true.' "
You could say she's stopped hiding. Kennedy's Instagram profile (@KyraLemoKennedy) states, "I'm a mess but I make it look so good," and indeed, in it, life looks pretty good. There she is wearing Marni in Montauk, or cozying up to actress Bella Thorne at the Chateau Marmont. Her dad has called and requested that she "clean up her Instagram," but as far as Kennedy, a freshman at FIT, is concerned, she's just having a good time. And Warren would have to agree. "We have fun with it," he says. "If people have something negative to say, we're not asking them to follow in the first place."
Warren met Tiffany Trump, the Donald's second youngest and only child with ex-wife Marla Maples, when they were three years old. A 21-year-old junior at UPenn, her father's alma mater, she has a toothy, Pollyanna smile and a Southern gentility, using expressions like "goodness gracious" that belie the steady stream of pouty selfies that fill her Instagram account @TiffanyTrump. Still, she's doing something right—or at least crowd-pleasing. She's got 30,000 followers, even if her dad is not among them. "I don't know what it's like to have a typical father figure," says Trump. "He's not the dad who's going to take me to the beach and go swimming, but he's such a motivational person." She's debating whether to go to business school or law school after college.
It's Saturday night in Southampton—the perfect excuse for a dinner party. Warren has invited 25 friends to a buzzy East End restaurant in celebration of his successful Just Drew trunk show, which took place earlier today at a local boutique. A society photographer is snapping away as bottles of rosé float across the table. "Wait!" Matisse yells to the lensman. She grabs the hand of Peter Brant Jr., son of billionaire businessman Peter M. Brant, and points to a decorative hedge. "This is a great picture. Take this!" She dips her head back and falls, dramatically, into a bush.
While there may be no such thing as bad press, fast fame isn't necessarily on the agenda. Warren and the girls have been approached by producers interested in building a reality show around them, but they've turned up their collective noses at the idea. "I think that it's just selling yourself, and it's not an attractive look. I don't believe in it," Kennedy sniffs. Adds Trump, "You have to think long term. It's easy money, but …"
"But," interjects Matisse, "it conflicts so much with all of our different personal goals. Besides, it's not about money or fame, it's about our friendships. It's about us being fucking amazing people and loving each other. That's what it's about."
Check out the video below to see Andrew and his friends model pieces from his Just Drew line: