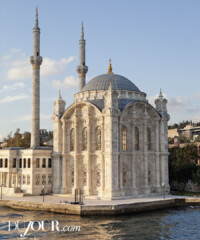 Throughout history, Turkey has found itself at any number of crossroads—religious, political, geographic—and so it remains. In August, the country elected a new, and controversial, president whose paternalistic rule as prime minister inspired protests in 2013. Appeals for admission into the European Union are ongoing. And although Turkey became a secular state in the 1920s, the population is still predominantly Muslim, with an eastern border shared with Syria. Which of course begs a question asked by many a friend and father before my trip: Is it safe to go? 
The short answer, of course, is yes, as safe as any foreign—or domestic, for that matter—travel is these days. Destinations in western Turkey are many hundreds of miles away from what's happening on the borders shared with Syria and Iraq. That said, the ever-changing nature of the modern world makes a good case for taking certain precautions. As when planning any trip that's extensive, expensive or far in the future, it's not a bad idea to invest in trip insurance when traveling to Turkey. 
Because the answer isn't to avoid going altogether. Turkey is a complex, magical place, and a lot of fun, with a little something for everyone: history, culture, sun, sea, nature and some truly excellent food. Herein, the people and places to know if you go.  
The guide: After just a few minutes with Vedat Palandöken, a fifth generation Istanbulu who's been taking visitors around the historic Old City for 50 years, it's clear your tour will not be textbook. With half of the city in Europe and the other half in Asia, Istanbul quite literally straddles East and West, the gleaming Bosporus in the middle, and Palandöken knows the town from every which way. His walking guides of Istanbul's most important sites are told in fascinating (and precise) detail, down to the breakfast (and wife) one sultan favored and the ego-driven particulars that influenced the construction of the Blue Mosque. He also offers plenty of more practical knowledge, like how to skip the line at Topkapi Palace; which is the best of the many baklava stands in the Spice Bazaar (Karaköy Güllüoğlu, and try the double pistachio); and the Turkish towel vendor favored by Jessica Alba, because, well, it just so happens he'd been here with her a few months earlier (it's Sivasli Yazmacisi, a tiny stall near the center of the Grand Bazaar). Although Palandöken has never been to the U.S., he can say with certainty that an imperial seal that Sultan Abdülmecid sent the U.S. became part of the Washington Monument—John McCain told him so. But the name-dropping is not for show. Palandöken has become the VIP go-to because he's that good. Over mid-tour tosts (a sort of grilled cheese sandwich), ask him to tell you the story of how, as a girl, his aunt delivered a basket of eggs to an ailing Prime Minister Ismet Inönü, who then helped her grow up to become one of the country's first female bank presidents. 
The hotel: Carved into the soft rock and volcanic ash that makes up most of the landscape of Cappadocia, a region of fairy chimneys and rock pinnacles about 450 miles from Istanbul, Argos is one of the many local "cave hotels" that draw from Cappadocia's history as an underground shelter for Christians fleeing persecution. But it's not kitsch: The 53-room hotel is actually built around ancient subterranean kitchens, bedrooms and chapels, and rooms are classic, comfortable and entirely modern. Some have terraces, others offer in-room plunge pools and all come with a bottle of wine produced by Argos' own winery, using grapes grown on the property. Meanwhile, a garden cascading down the hillside provides the in-house restaurant, Seki, with fresh vegetables and herbs for its excellent pastas and mezes. The owner calls Argos "an ancient village with a reception desk"—and it is the perfect home base from which to explore Cappadocia's peaks and valleys either on foot or by hot air balloon.
The voyage: Traditionally, gulets—Turkish wide-bottomed wooden yachts—were used to transport oranges and olives to the major trading ports throughout the Aegean Sea. These days, they're used for transporting vacationers along the still largely unspoiled Turkish Riviera, past ancient stone ruins and tiny villages, and into and out of coves, each more scenic than the last. It's a practice in blissful nothingness, with roomy decks outfitted with pillows for lounging and days built around sprawling meals that likely haven't changed much in centuries: fresh figs, hummus, grape leaves, sea beans. Most gulets are constructed in the posh port city of Bodrum, where the boats fill each harbor awaiting day trips through the bay of Gokova, a longer excursion over to the Greek islands of Santorini and Mykonos or up the Turkish coast to the Çesme Peninsula. 
The host: There is plenty of opportunity to eat well in Turkey, but the best meals tend to be the ones that don't try so hard. The small town of Alaçati, overlooking the Aegean Sea on the Çesme Peninsula, is positioning itself as the sort of anti-Bodrum, a quainter, quieter destination where days are spent at the beach, by the hotel pool or around some long and collegial table where wine glasses never seem to empty. Celal Bayraktaroğlu is the owner of Alaçati's Beyevi, a former Roman stone house he and his wife restored into a small hotel as part of their "retirement plan," which, he'll tell you, is more work than he thought. Bayraktaroğlu will direct you to the town's best meals, including dinner in the lively courtyard at Asma Yapraği, where each afternoon Ayse Nur Mihçi and her son pull from their garden to plan the evening's menu. Guests wander right into the kitchen to choose their meze and main course—braised artichoke, mint-stuffed zucchini flowers, fresh tomatoes served simply—if they can choose at all. It's a problem that pops up often in Turkey: How to possibly fit it all in?