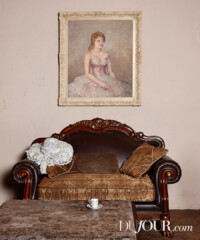 Deep in the Texas Hill Country, 16 miles north of Fredericksburg on Ranch Road 965, sits Trois Estate, Rebecca Trois' sprawling bed and breakfast. Tucked away on 37 acres off the 965, a country drive with little more foot traffic than the occasional frolicking deer, it would be easy to miss—but that would be a shame.
The remote location is less than a mile from Enchanted Rock, the second-largest granite batholith in the country, which, at roughly one billion years old, is thought to be some of the oldest stone in North America. Visible from high points at Trois Estate, the domed outcrop spans 62 square miles and serves as the centerpiece of the Enchanted Rock State Natural Area. "It's the most magical, healing place on Earth," says Trois, who came across the raw expanse in 1998. "We saw hundreds of properties before finding this, and it just felt right." 
At the time, she and her then-husband, Charles, an artist, had been looking for a unique spot to call home and raise their sons. And for Trois, who'd recently traded life as a corporate executive to become a Reiki master, living in what she calls a "very serene, country-style setting in the middle of nature" held immeasurable appeal. "I'm not sure if the Rock called us here, but we certainly knew, without question, it was home when we found it," she says. More poignantly, she thought others would be drawn to it, too. Trois had dreamed of opening a B&B since she was a little girl; now, in the shadow of the Rock, she envisioned creating "a village that would draw people of an artistic nature…a place that would magnify for you what you need, and that would wake up your gifts."
In 1998, she and Charles began building a family home into the solid granite on their land without an architect or formal plans. She calls the resulting 22,000-square-foot manse—with its brick vaulted ceilings inspired by San Miguel de Allende, wine bottles for windows, underground tunnels and cavernous hand-carved grotto—a blueprint of their creativity. "It's a manifestation of thought, prayer and belief," Trois says. "We built this place with love." 
The B&B came next, slowly but steadily. Over the course of six years, the couple completed one structure at a time, and filled each with pieces from their vast collection of eclectic antiques and treasures, such as vintage cap guns and a hunter's safari trophies bought at auction. Eventually, the estate expanded to include an award-winning Italian restaurant (with Trois herself heading up the kitchen), a dozen guest casitas replete with handmade furniture and enclosed by hardy wooden doors made on the grounds, an intimate chapel with its own bell and, of course, plenty of places to commune with nature—all interconnected by paved mosaic paths. 
And once Trois Estate was built, people did come—from rock icons like Robert Plant to romantics ready to walk down the aisle. Not surprisingly, the roof deck of the main building, which provides panoramic views during the day and an unfiltered, bright blanket of stars at night, is one of the most popular proposal spots in the state. Secluded and peaceful as the estate is, it's also a draw for anyone seeking refuge from the stresses of modern life. "Some people find themselves here when they are going through a crisis," Trois says. "It gives them the direction they need."
She speaks from experience. After divorcing Charles in 2011 and recovering from a broken back the same year, Trois quit trying to do it all. She'd planned five weddings from her hospital bed, she says, and something had to change. Though she still has a hand in special events, she's hung up her chef clothes, scaled back the restaurant to traditional B&B offerings and returned her focus to the healing arts. The estate now specializes in retreats intended to restore balance to guests' lives, such as the "Grand Alignment," a getaway designed to promote complete relaxation, as well as workshops in meditation (sometimes inside a prayer pyramid), yoga and color-immersion therapy. There are also new attractions: an indoor lounge space for guests to unwind with a game of chess, fresh juice or a glass of wine; a European spa; and an outdoor sanctuary with a swimming pool and seating under twinkle-lit trees. "I'm at a point in my life that I can help people find their authentic selves," she says. "It's about snuggling into a sofa and unplugging, but it's also about connecting with like-minded people." 
Although Trois Estate is barely 20 years old, it feels, remarkably, as if it's been here forever. Perhaps it's the artisan Old World design and the rock it's built upon, or the fact that Native Americans once roamed the same land. Guests—both new and return—speak of the destination's magnetic energy. Sisters Tioshi Torrence and Christina Gutel, who host their own wellness retreats all over the world, had been trying to schedule a weekend away from work, kids and husbands when Torrence stumbled upon Trois Estate. They drove four hours from Houston for a one-night stay, and have already booked another trip. 
"It's hard to describe, but it's very magical," Gutel says. "We were blown over." They were so impressed that they decided to hold one of their retreats on the property. "You're given permission to be meditative and prayerful there, to regroup," she says. Trois, who lives on the property with her mother and three sons, says that's because Enchanted Rock is truly one of the most sacred spaces on Earth. "We're out here for a reason," she says. "This place has a heartbeat, a life to it. It's one step closer to heaven."