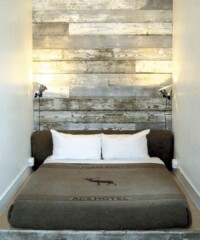 It seems like everyone has an opinion about Portland, Oregon. While planning a three-day trip, even the most organized traveler can become easily overwhelmed by recommendations from friends and magazines, both of which have very strong views on what's required of anyone visiting the capital of artisanal cool.
My two cents upon a late-night arrival: It's a prettier, walkable Austin, Texas. Except for the fact that you can't eat after 11:30 pm. When we checked into the Ace Hotel in downtown Portland, the only restaurant still serving was the adjacent Clyde Common, which came recommended. The late-night bar menu was tiny (a cheeseburger and green salad) but satisfying, although we wondered why we couldn't order off the full menu, which other diners were still enjoying.
Still, the Ace is definitely the place to stay. Though it resembles a Spanish hostel if you opt for one of the shared bathroom/shower rooms, it's perfectly-located, well-appointed and has a nice breakfast buffet around which people congregate in the early morning. Between the free bikes and Stumptown in the lobby, it's all you need.
We arrived on July 4th, so much of the town was closed, but it was great to walk around the city—which is divided into four quadrants—and check out the bustling riverfront, where a jazz festival was under way. Dinner was at the loft-like boite Irving Street Kitchen, where we enjoyed bibb wedges, seared foie gras with tomato marmalade, bacon and mustard greens, a nice fried chicken and local salmon with red quinoa pilaf and preserved lemon. Dessert was a milk-chocolate-and-berry confection. Service was great and the industrial space, which boasts an open façade, offered a nice breeze.
The next day, we waited like locals at the Nob Hill district's brunch mecca Stepping Stone Café (famously featured on The Travel Channel's Man v. Food ). Starved after a long wait, the standout dishes included chicken fried steak with white gravy and the signature, plate-sized "mancakes." The cinnamon roll French toast, we agreed, was lackluster. With heavy hearts and stomachs, we left Portland (in a brand new Ford Edge SUV, which we loved) for the coast, but not before a pit stop at the first of many wineries, Montinore in Forest Grove. There we sampled the 2011 Reserve Müller-Thurgau, a refreshing 2012 Pinot Rosé and a couple of trademark Pinot Noirs (the grape of the region) in a tasting room before continuing on our journey.
Although this was a holiday weekend during high season, we were lucky enough to score a room at the Salishan Lodge in Gleneden Beach. The resort in this sleepy, coastal town (which abuts Lincoln City) was reminiscent of Dirty Dancing, with dark wood buildings overlooking the forest and private balconies and gas fireplaces—it gets cold at night! We checked in and headed right down to the gorgeous, wide beach (on which the resort also offers picturesque houses to rent) where we remained for the rest of the afternoon.
What we didn't realize (at 8:30 pm as we tried to pick from the restaurants we'd passed en route to the property) was that almost everything had closed for the night. So our dreams of fresh Dungeness crab were quickly dashed. Happily, the divey Shucker's Oyster Bar was still serving and we slurped down dozens of oysters, tasty fish and chips and fresh crab cocktail. It's hopeless to search for artisanal ice cream—or anything else—past 9:30 pm in Lincoln City, so back to the Salishan's bar it was for a round of drinks and some depressing lounge music.
Early Saturday, we left the coastal paradise and headed to the Willamette Valley wine country to continue our vino therapy. A scenic drive peppered with lush trees and rolling hills (set to a soundtrack of the Smiths, the Replacements and, of course, the Cars) made for a lovely two-hour drive to lunch at the family-owned and operated Allison Inn & Spa in Newberg. There we enjoyed brunch (a well-cooked omelet with goat cheese and squash and an out-of-place smoked pork chilaquiles) and Argyle bubbly al fresco at JORY (prepared by chef Sunny Jin) using produce grown on site. A tour of the four-year-old LEED Gold property showcased their contemporary rooms, expansive 15,000-square-foot spa and pool, a 1.5-acre garden and greenhouse and manicured gardens followed briefly before we headed off to Brick House Vineyard a few miles away. There we tasted several varietals (special shout-out goes to their "Les Dijonnais" Pinot Noir and Gamay Noir) with Steven and lusted after the property's appropriately gorgeous brick house, where the owners live, and surrounding grounds.
As we learned at the coast, Oregon is not a late-night kind of place, so we scurried off to our hotel, the perfectly pleasant new and well-appointed Inn at Red Hills to get ready for dinner with friends. Williamette isn't yet the luxury destination that Napa and Sonoma have become, with only a handful of hotels/B&Bs and good restaurants, but it will be soon enough, especially with its proximity (40 minutes) to Portland. At Bistro Maison in McMinnville, husband-and-wife team Deborah (she runs the front of house) and Jean-Jacques Chatelard (they owned Ferrier for years on Manhattan's Upper East Side) offer classic bistro fare in a lovely setting. We opted for the front patio but there is ample outdoor space around back and enjoyed more Argyle bubbly, their house cocktails, rosé and—gasp!—more pinot noir while we knocked back truffled fondue, a blue cheese tart, excellent moules , coq au vin, scallops, duck confit and too many desserts to remember. Again, we struggled to find some night life in town so we ended up shooting pool and playing Ms. Pac Man at local watering hole Lumpy's to round out the night.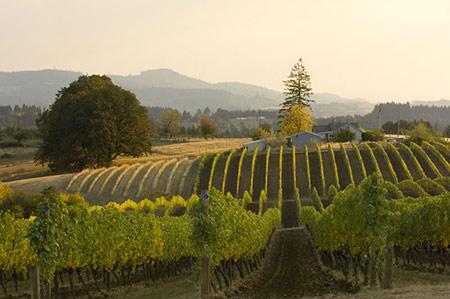 Sunday saw an early-morning rise to get cracking on the rest of our wine tastings. First stop, The Four Graces where we sampled their Pinot Gris and Pinot Blanc (a nice change/diversion from all the red wine on hot summer days). Next up: two-plus hours with owner/winemaker Harry Peterson-Nedry of Chehalem in Newberg. This location isn't open to the public but the winery offers a tasting room in town. Harry took us through the gamut of their extensive collection from their trademark/signature crisp INOX Chardonnay to their dry Grüner Veltliner (not a grape you see a lot in this region) to many reserve blends and no-longer-available pinots. Harry, whose business card extolls his degrees in chemistry and English and formerwork in the circus, led us through a veritable circus of palate experiences we'll remember for a long time to come. His knowledge and personal history was riveting but it was time to move onto the next. After consuming much of their signature brut champagne along our journey, we had to stop into Argyle for some more bubbly and were pleasantly surprised by the richness of their Brut Rosé as well. The small tasting room, situated in a gray house with lovely, colorful gardens, was another great way to break up all the reds wesampled throughout the day.
After all that wine, though, we had to grab provisions for a picnic at gourmet grocery Red Hills Market (for all your Napa buffs, think Oakville Grocery). Even though not much of what we snagged was local to Oregon, we made do with a rich goat and a creamy French cow's milk cheese, salami, smoked Chinook salmon, baguette and truffles. We carted our haul up to De Ponte Cellars in the hills of Dayton where friends suggested we relax and take in the views over our picnic. We wished that the proprietors at the vineyard had been more knowledgeable and accommodating (we felt a bit rushed) but there was no mistaking that wonderful view and their dry rosé.
Heads in hands, we begrudgingly headed back to Portland for our last meal, last spot of wine and last moments of serenity before catching a red-eye back to JFK. We were lucky enough to snag seats at the chef's counter at Le Pigeon (generally considered Portland's best and helmed by two-time James Beard winning chef Gabriel Rucker). Watching the hipster chefs hard at work on our grilled pork belly, lamb tongue and potato salad, razor claims casino and overly-salted crab-crusted halibut, we ogled our dinner mates' tasting menus but soon realized they were just smaller portions of the regular menu so we were satisfied with our own version. We scooted off to nearby PDX and settled into our seats for the easy flight home and the return to New York's muggy 90-degree days.
Click through the gallery for a closer look at these Portland hotspots.