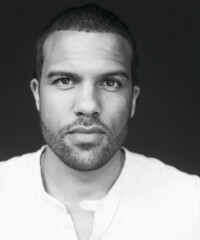 Dapper with a capital D was my first thought upon seeing O-T Fagbenle stroll into DuJour's offices. Coolly dressed head-to-toe in a three-piece suit without the jacket, (driving cap included), 36-year-old Fagbenle was surprisingly—dare I say, delightfully—dressed up in comparison to his latest down-to-Brooklyn role. In Hulu's The Handmaid's Tale, Fagbenle plays Luke, starring opposite Elisabeth Moss and Samira Wiley, to name a few. And that's just the beginning.   
Based on the namesake novel by Margaret Atwood, the series follows the life of Offred (Moss) in a dystopian America that's been taken over by a totalitarian theocracy. This new world, run by fundamentalists who condemn all women to worse than pre-suffrage roles, has placed Offred in the property of a married, wealthy politician in hopes that she'll carry his child. And as Offred's world slowly, painfully closes in on her, Fagbenle's character is one half (along with her child) of the past that keeps her alive and fighting.
Below, we speak with the actor about his newest role, The Handmaid's Tale, and what's next for this dapper Brit.
Tell me about the time when you first read the script—was it love-at-first-read?
Bruce Miller had created this amazing script and I was like, "Well this is cool," so I put myself on tape. I also realized that [director] Reed Morano was on it, and I had worked with him on HBO's Looking and she was so cool to work with. But it was after I got the part that I read the book—that's normally boring research for actors—and halfway through I was just like, "This is amazing—I can't wait to read it again."
What was it like to bring this character to life from the book?
For me, at least, you put the book down because you're no longer making the book, you're making the TV series. It's like the bible, the source material of the script, but at a point that just becomes this beautiful distant relative and you're aware it had a life, but your commitment is now to the script. 
The last project you worked on is also based on a book (NW by Zadie Smith). Are these projects you gravitate towards on purpose?
[Laughing] This is my new strategy! As an actor you're always looking for nourishment and artistic food that can give you context for you character, so what's great about having a book is it's something you can get completely lost in. So that helps. Particularly with NW because Zadie had created such a complex character in her novel—we were just nominated for two BAFTA awards by the way [single drama; Nikki Amuka-Bird for best actress]—and it can help you."
I spoke with Madeline Brewer a little while ago—
She's so good in this, like mind-blowing good.
The cast in and of itself is reason enough to watch this show—how was the experience to work with them?
They were awful! [Laughs] Elisabeth—we play husband and wife—is just so lovely and talented, but she's also hilarious! She has this dark sense of humor. 
Would current events come up while filming?
It came up, but I think it mostly came up because we're people that are interested in the world. Not so much tying it to the show. There were moments we went, "well geez, this could be weirdly said today," but the correlations that people draw—they're going to do that anyway. I don't think we need to beat the drum. 
What do you like the most about playing Luke?
Outside of NW, in the last two series I did (The Five and The Interceptor), I play quite hard, brash characters. I kick a guy through a window in one of them and there are car chases. Luke is so not that guy. Luke is this metrosexual, warm, furry, bearded guy—he's an everyman in many ways. So it's interesting putting him in a situation where the world is becoming more fascistic and hard, and more suited to the bullies. It's also scary because if you were not macho-man how would you survive?
How would you survive?
I'm much more like Luke! I don't know—I think I would probably try to escape with my family. 
What's next for you?
I'm currently developing a couple projects as a writer and director with my brother's company, Luti Media. I've done shorts before, but this would be on a much bigger scale. 
Click through the gallery for a behind-the-scenes look at a day in Fagbenle's life. 
Main Image: Isaac Sterling