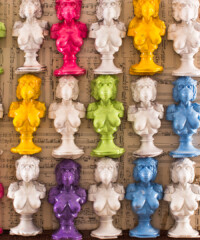 HG Contemporary will host artist Laura Kimpton's solo exhibition from May 4 through May 26, 2017. The multimedia exhibition, called If WORDS could SPEAK, will focus on the importance of words within text, speech and sculpture. 
Different installations will be presented as a complete and cohesive show, including a new series of "Word Search" pieces composed of colorful salvaged metal letters from Indonesia.
"I was inspired during my trip down the Congo. I found the letter shapes in Indonesia. The series has hundreds of words. I'm constantly playing with words – I think that's the whole point of it," Kimpton says of her inspiration for If WORDS could SPEAK. Also on display will be Kimpton's mixed media works including "The Way Women Do It, Her Words," and her interpretive self-portraits as birds.
"I really don't like telling people what to take from my work. I want people to go home and make art!  I want them to be creative, knowing that you can make art from anything," the California-based artist says of what she would like visitors to take from her unique style of art.
Kimpton describes a moment of discovery when she was making "Heart of Art" as being one of her favorite moments while creating the exhibition. "I realized that by combining the two images together, a temple was formed." She adds, "Being back in the studio and making art with a group was also incredible. It's so much fun to be working in that environment."
One of the most distinct installations in this solo exhibit is the fifty monkey busts donning Kimpton's personal jewelry. The monkeys will be stationed in pairs, bearing either a "BE ART," "BE KIND" or "BE LOVE" message. You won't be able to miss the 16-foot monkey sculpture wearing a "BE ART" necklace outside the gallery during the exhibition's opening.
Click through the gallery above for a look inside If WORDS could SPEAK.
527 West 23rd Street, New York, New York